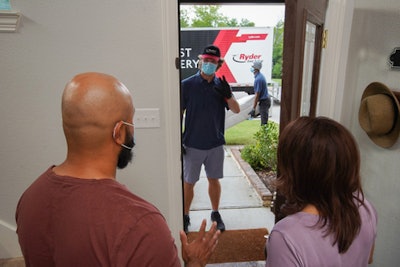 The Ryder System, Inc., (CCJ Top 250, No. 14) Board of Directors late last week rejected an $86 per share takeover bid from HG Vora. HG Vora already owns a roughly 10% stake in Ryder.
"I spoke to Mr. Vora late (Thursday), and I informed that the Board had reviewed his letter and had determined that the price indicated in his letter was not indicative of the value of our company," Ryder CEO Robert Sanchez said kicking off the company's 2022 Investor Day Friday. "So our Board remains committed to maximizing shareholder value and believes that the plan that we have going forward would result in a much higher value for our shareholders."
Sanchez called HG Vora "an important shareholder," adding that "we're going to continue to have dialogue with them as a shareholder," but gave no indication of whether he expected HG Vora to counter-offer with a higher bid. An email to Janice Yu, HG Vora's head of investor relations and business development, was not returned Monday.
Ryder's Investor Day made clear that if Ryder was for sale, it would be significantly more costly than the $4.4 billion Vora offered, as Sanchez noted "the transformation that we're leading in this business."
Indeed, Ryder has spent considerable time and money in recent years building out new and complementary parts of its business, "to really change the profile of our business going forward," Sanchez said.
Ryder recently opened its third multi-client omnichannel distribution center in Columbus, Ohio, (its 22nd multiclient and dedicated e-commerce facility in the U.S.) and acquired Whiplash, a provider of omnichannel fulfillment and logistics services, for approximately $480 million in cash.
Ryder also this year partnered with insurtech company REIN to launch "Insurance Services by REIN," to Ryder used vehicle sales customers, enabling the coverage provider to offer coverage directly to Ryder used vehicle customers at the point of truck purchase.
To enhance the Ryder Last Mile customer experience, the company continues to invest heavily in visibility technology such as RyderView, which enables consumers to schedule deliveries at their convenience and then easily track their orders in real-time. At the point of delivery, RyderView offers electronic proof of delivery and an option for customers to complete an automated survey.