Trucking news and briefs for Monday, July 4, 2022:
J.B. Hunt expanding intermodal fleet with new containers
J.B. Hunt (CCJ Top 250, No. 3) announced last week that the cargo vessel Johnelle has docked at the Port of Everett in Washington, with more than 250 new containers reserved for the expansion of J.B. Hunt's intermodal fleet.
The Johnnie Bryan, a second cargo vessel, is expected to dock at the Port of Hueneme in California next month with additional new containers. The two are part of a long-term, multi-vessel service agreement between J.B. Hunt and Swire Shipping Pte. Ltd. that will help expedite the overseas transport of new company containers and provide customers with a unique solution for accelerating international cargo movement from Asia.
"This is yet another example of our people listening to the needs of customers and developing a creative solution to efficiently deliver on their capacity needs," said John Roberts, president and CEO of J.B. Hunt. "It is our honor to name two of the vessels helping us charter new waters this year after the original visionaries who knew the potential of what our company could be."
Under the agreement, J.B. Hunt will have ongoing cargo shipping opportunities available from the Shenzhen, Qingdao and Shanghai markets in China to ports in California and the Pacific Northwest. The company said the planned moves will help its customers alleviate supply chain challenges, such as equipment dislocation and fluidity, dwell time and demurrage by streamlining the ocean transport and transloading process.
"We're really solving for two very big challenges with this agreement," said Darren Field, president of intermodal and executive vice president at J.B. Hunt. "First, we're adding intermodal capacity, which will provide customers with more opportunity to leverage the cost-savings and sustainability benefits that J.B. Hunt Intermodal offers. Second, we're greatly reducing the time it takes for customers' freight originating overseas to be out for delivery in the U.S., something that has troubled the industry for years."
Along with the support of additional vessel capacity, the Johnelle and Johnnie Bryan will continue transporting new J.B. Hunt containers overseas as they become available, delivering on the company's commitment to grow its intermodal fleet to as many as 150,000 containers in the next three-to-five years. J.B. Hunt's intermodal fleet currently includes more than 109,000 53-foot containers and 6,000 tractors.
Hazmat loads banned on Alabama interstate this month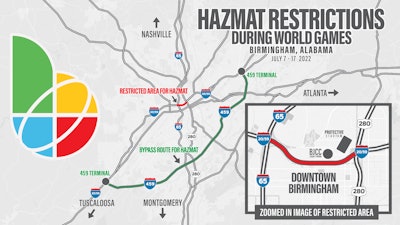 The Alabama Department of Transportation (ALDOT), under a directive from the U.S. Secret Service, will restrict all hazardous material cargo shipments on I-59/20 through downtown Birmingham during The World Games being held July 7-17.
The affected portion of I-59/20 is from I-65 to the east of the E. B. Stephens Freeway (U.S. Highway 31). The closure begins Thursday, July 7, and continues through Sunday, July 17. The Alabama Trucking Association said it's been told enforcement will be strict.
The World Games is an 11-day international multi-sport event organized with the support of the International Olympic Committee. An anticipated 3,600 athletes from all over the world will compete in 30 of the fastest-growing sports. Event organizers and city officials are expecting more than 500,000 spectators will come through the Birmingham area during the event.
With increased crowds and foot traffic underneath the raised portion of I-59/20, the Secret Service has placed a very high-security level in preparation for the many events and functions that will happen under or near the interstate bridges that rise over the Birmingham Central Business District, which includes Legacy Arena, Protective Stadium, and the Uptown Entertainment District.
ALDOT is already using digital message signs on various interstate routes to alert traffic. Static signs will also be placed in high-traffic areas. Carriers hauling hazmat cargo must use I-459 to bypass affected areas for pass-through destinations.
TLSS acquiring JFK Cartage
Transportation and Logistics Systems (TLSS) announced last week that on May 24, through its wholly-owned operating subsidiary Cougar Express, it entered into a stock purchase agreement (SPA) to acquire 100% of the outstanding stock of JFK Cartage located in Inwood, New York.
The SPA provides for a purchase price equal to approximately $1,700,000, subject to adjustment for debt assumed by Cougar or retained by JFK Cartage. The price will be paid as $500,000 payable in cash at closing; $700,000 in the form of a secured, promissory note, payable in three annual installments with interest at 5% per year; and $500,000 in the form of an assumed Small Business Administration loan.
The transaction is expected to close near the end of July 2022
"Combining Cougar Express and JFK Cartage should generate significant revenue enhancement, operational efficiencies and cost savings, while providing us with a larger and much more functional facility," said Sebastian Giordano, Chairman and Chief Executive Officer of TLSS. "While we have multiple acquisition opportunities presently before us, we prioritized rectifying our current occupancy issues at Cougar. This JFK Cartage acquisition, if closed when expected, would dovetail very well with Cougar's upcoming space requirements, as Cougar is scheduled to vacate its current premises no later than Sept. 30, 2022."
Located in Inwood, JFK Cartage operates from a 30,000 square foot warehouse with 10 drive-in doors and is strategically located approximately six miles from JFK International Airport.
JFK Cartage has been in business since 2008 and provides warehousing, cross-dock services, pickup and deliveries, and general trucking, handling airfreight, trade show freight, expedited and hotshot demand work, LTL/cartage as well as FTL, reverse logistics, white glove and residential delivery services to a broad base of more than 95 commercial accounts and residential customers.
JFK Cartage operates a wide-ranging fleet of specialty vehicles, from its Sprinter vans to full 53-foot tractor-trailers. The compnay, with its assets, fleet and warehouse, is believed to be one of the largest leading cartage agents serving the New York Tri-State area.