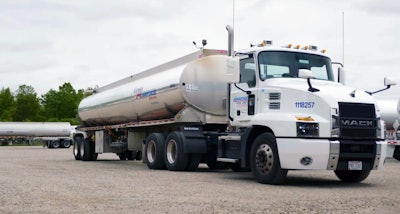 Kenan Advantage Group (CCJ Top 250, No. 19) the largest tank truck transporter and logistics provider in North America, has acquired Lafayette, Louisiana-based American PetroLog.
American PetroLog offers a wide variety of logistics, transportation, storage and transloading services for commodities such as water treatment chemicals, biofuels, lube oil, wax, missile fuel, rocket propellant, oilfield chemicals, alcohol and glycol.
"There are tremendous synergies between our two organizations, which we plan to capitalize on as we hit the ground running on day one," said Kevin Spencer, President of KAG Logistics, a subsidiary of The Kenan Advantage Group. "American PetroLog has an impeccable reputation in our shared end markets and is committed to solving the complex supply chain challenges of our combined customers today and our potential customers in the future. Their passion and commitment to their people and their partners align perfectly with our vision to be the premier global transportation and logistics provider."
As part of the deal, American PetroLog President and CEO Jeff Colonna will join KAG Logistics. "We are excited about the opportunities this partnership with KAGL will provide our team and our customers," he said. "The timing is also significant with many shippers seeking to secure reliable capacity after the supply chain disruption faced by many over the last two years. By joining KAGL, we are even better positioned to meet the unique needs of our customers in the liquid bulk/petrochemical space going forward."
Spencer Tenney, President and CEO of Tenney Group, which acted as an advisor to American PetroLog, called the deal "a great win for both parties. It also demonstrates how record level M&A activity is changing the competitive landscape in logistics."
Indeed, mergers and acquisitions have been on a torrid pace. KAG Logistics' is the seventh acquisition among CCJ's Top 250 for-hire carriers this month, joining USA Truck (No. 68) being bought by DB Schenker; Freymiller's (No. 147) acquisition by investment groups, Fastfrate's acquisition of Challenger Motor Freight (No. 77); PAM's purchase of Metropolitan Trucking; Heartland Express (No. 42) picking up Roaring Spring, Pennsylvania-based Smith Transport (No. 111); and Schneider's (No. 8) acquisition of deBoer Transportation, a regional and dedicated carrier headquartered in Blenker, Wisconsin.