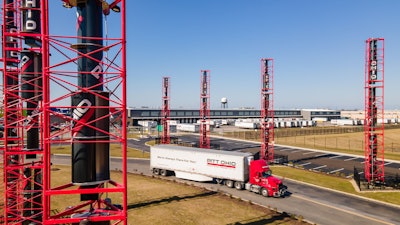 Transportation, warehouse and logistics service provider PITT OHIO (CCJ Top 250, No. 48) is acquiring Watertown, N.Y.-based LTL carrier Teal's Express.
The acquisition, set to close Aug. 14, provides PITT OHIO with a mode of direct service expansion into New York state. Previously, Teal's Express and PITT OHIO had partnered on LTL service to and from New York since 2016.
In the deal, the financial terms of which were not disclosed, PITT OHIO will acquire Teal's Express equipment, including 66 trucks, and 10 terminals, eight of which are in New York.
"The Teal family sees this as a unique opportunity for their customers and employees, as Pitt Ohio brings tremendous resources to the table," the company wrote in a messaged posted on its website Tuesday. Teal's Express had been an LTL carrier in the area for 96 years.
PITT OHIO plans to integrate Teal's Express employees, equipment and facilities into its existing operations, and Teal's Express will close its operations. PITT OHIO expects to begin providing direct LTL service to and from New York Aug. 14.
Ross Express, PITT OHIO's sister company, will continue to provide a similar LTL service between New England and New York state.
PITT OHIO's is the second acquisition this week among CCJ's Top 250 for-hire carriers, with Ward Transport and Logistics (No. 140) announcing Monday it had acquired Chicago-based, Quality Cartage.
Dating back to June, there have been ten mergers and acquisitions among CCJ's Top 250 for-hire carriers: KLLM Transport Services (No. 45) acquiring Quest Global; Kenan Advantage Group's (No. 19) acquisition of a Louisiana petrochem company; USA Truck (No. 68) being bought by DB Schenker; Freymiller's (No. 147) acquisition by investment groups, Fastfrate's acquisition of Challenger Motor Freight (No. 77); PAM's (No. 58) purchase of Metropolitan Trucking; Heartland Express (No. 42) picking up Roaring Spring, Pennsylvania-based Smith Transport (No. 111); and Schneider's (No. 8) acquisition of deBoer Transportation, a regional and dedicated carrier headquartered in Blenker, Wisconsin.