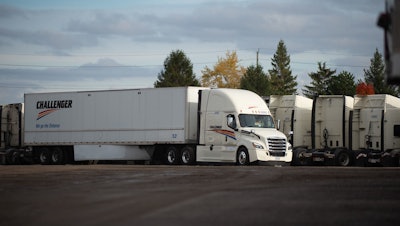 Fastfrate Group has acquired a majority stake in Challenger Motor Freight (CCJ Top 250, No. 77), the company confirmed Thursday, adding cross-border trucking capabilities to Fastfrate Group's scope of business.
Fastfrate Group is comprised of seven companies that operate out of 40 terminals and final mile hubs across Canada and into the U.S., offering asset-based transportation including over-the-road, crossborder and intermodal LTL and TL, drayage and transload, warehousing, distribution, final mile and logistics services.
Challenger Motor Freight, a coast-to-coast provider of transportation, warehousing and distribution services with the ability to ship domestically and across North America, earlier this year was named Best Fleet to Drive For in the large fleet category by the Truckload Carriers Association.
"Together, we are a force within our industry that will compete collectively to deliver a complete and complementary suite of solutions to customers," said Fastfrate Group Chairman Ron Tepper. "This will serve to help our customers as supply chains become more diverse."
The new combined entity – both companies are based in Ontario, Canada – will have more than 5,000 employees and owner-operators, over 1.2 million sq.ft. in facilities, more than 5,500 pieces of equipment, and it becomes one of the largest independently owned transportation and supply chain companies in Canada.
"With similar histories of entrepreneurship and growth, this is as much an acquisition as it is a partnership of like minds," said Dan Einwechter, founder and chairman of Challenger. "We are excited to offer truly end-to-end transportation and supply chain solutions to our customers, which support their needs and grow their business."
Challenger Group will continue to operate independently under incoming CEO Jim Peeples. Einwechter will remain Chairman of Challenger Group and join the Fastfrate Group Board of Directors. Manny Calandrino will continue as CEO of Fastfrate Group, and current employees and management teams at both organizations will not be impacted by the transaction.
Fastfrate's is the fourth acquisition this month among CCJ's Top 250 for-hire carriers, and the second one this week. It joins PAM's purchase of Metropolitan Trucking, Heartland Express (No. 42) picking up Roaring Spring, Pennsylvania-based Smith Transport (No. 111) and Schneider's (No. 8) acquisition of deBoer Transportation, a regional and dedicated carrier headquartered in Blenker, Wisconsin.
Fastfrate Group in February acquired United Transfer Limited, a transportation and warehousing company based in Saskatoon.