Trucking news and briefs for Friday, Nov. 10, 2023:
Cargo theft continues at unprecedented levels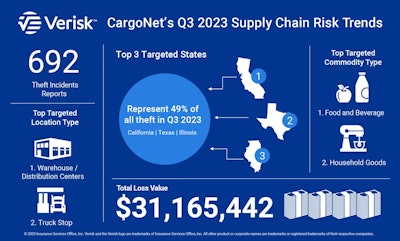 Cargo theft recording firm CargoNet reported Thursday that it recorded 692 events across the United States and Canada in the third quarter of 2023, a 59% increase when compared to the same period in 2022.
Like in the second quarter of 2023, much of the increase is due to ongoing shipment misdirection attacks, a kind of strategic cargo theft in which thieves use stolen motor carrier and logistics broker identities to obtain freight and misdirect it from the intended receiver so they can steal it.
In total, thieves stole over $31.1 million in shipments in the third quarter of 2023.
During that period, reported thefts increased in every event category. Documented strategic cargo theft events increased 430% year-over-year, and theft of a loaded conveyance such as a full trailer increased 4% year-over-year. These kinds of thefts were most common in California, Texas, Florida, Georgia and Illinois.
[Related: Cargo theft is skyrocketing. Why is theft on the rise and what strategies are thieves using?]
CargoNet also recorded a significant increase in the "other" category, which combines several categories of reports like identity theft complaints, hostage loads, late shipment complaints, and other kinds of criminal intelligence records.
Going into the final quarter of 2023, there is no indication that cargo theft activity will slow in the domestic United States, the firm added.
"We anticipate that strategic cargo theft will remain at unprecedented levels of activity throughout the quarter," CargoNet said in a press release. "We caution the industry that throughout this year, strategic cargo theft rings have picked up activity around holiday periods."
CagoNet noted that theft groups are also targeting a wider range of commodities, including truckload shipments of metals, such as copper, brass and aluminum; apparel, especially officially licenses sports apparel; and shipments of personal care and beauty products.
The firm also cautioned that "strategic cargo theft groups continue to pioneer new methods of strategic cargo theft that seek to evade common compliance practices used by logistics brokers."
They have reportedly increased perpetrating fraud against small motor carriers or owner-operators with intent of hijacking their accounts or convincing them to solicit shipments from brokers on their behalf. Both strategies seek to evade identity theft checks a broker may do prior to tendering a shipment.
[Related: How fleets can lower their chances of being targeted for cargo theft]
J.J. Keller unveils new accident investigation training
A crash involving a commercial motor vehicle (CMV) requires swift action from fleet managers in order to secure the scene, gather evidence, make reports, keep records and perform investigations that can help prevent similar incidents.
To help motor carriers properly follow all post-accident procedures, as well as conduct a thorough investigation of a crash, J. J. Keller & Associates has introduced its new Accident Investigation Procedures Training Service.
This onsite, consultant-led program trains a carrier's fleet manager to understand the post-accident FMCSR requirements, determine if a driver followed the proper procedures, take corrective action based on the results of an investigation, conduct corrective action training as needed, and challenge the preventability of a crash via DataQs.
"What makes this training so special is that it not only trains managers on how to quickly and accurately respond to an accident by meeting the letter of the FMCSA standards," said Sean Nebert, director of transport consulting services at J. J. Keller, "but also how to conduct an investigation that can protect the carrier from legal liability while preventing future accidents."
J. J. Keller's new training service covers:
Driver accident procedures
Accident registers
Drug and alcohol testing requirements
Tiered responses to accidents
Evidence and data preservation
Accident reconstruction
Root cause and preventability analysis
FMCSA crash preventability determination
Follow-up responses to prevent future accidents
"After a crash, there's a lot to do in a short window of time," Nebert added. "By having the proper training and processes in place, carriers greatly reduce their risk of costly mistakes being made."
Valley Companies names new VP of Enterprise Relationships
Freight brokerage Valley Companies has announced that Jason Mansur has joined the company as its new vice president of Enterprise Partnerships.
With more than 20 years of experience and proven executive leadership skills in third-party logistics, Mansur will work in tandem with president and CEO Todd Gilbert, and the company's leadership team, to develop new commercial solutions and partnerships.
"We've been extremely blessed in recent months to expand Valley's team with more of the industry's top talent," Gilbert said. "With Jason, we're gaining an additional perspective – one that includes a vast range of executive experience. His knowledge will enhance our strategies around carrier partnerships, while driving innovation and value for strategic vendors."
Mansur began his career as a team leader for FedEx and worked as a strategic account manager and general manager for sales and operations at Logistics Planning Services (later GlobalTranz), later serving as vice president of managed transportation. Most recently he served as president and chief operating officer for Evans Transportation Services, where he excelled at relationship building and organizational scaling, leveraging his own unique brand of creativity.