Trucking news and briefs for Wednesday, Nov. 8, 2023:
J.B. Hunt's Simpson named 2023 Influential Woman in Trucking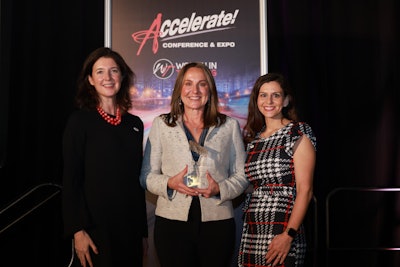 The Women in Trucking Association (WIT) has named Shelley Simpson, President of J.B. Hunt Transport Services (CCJ Top 250, No. 3) its 2023 Influential Woman in Trucking. The winner was announced during the WIT Accelerate! Conference & Expo in Dallas.
The award is sponsored by Daimler Truck North America (DTNA) and recognizes the achievements of female role models and trailblazers in the trucking industry.
Finalists for the 2023 award included Tori Blake, Chief Financial Officer and co-owner of Western Logistics Express and WLX, and Megan Ferguson, vice president of End-to-End Delivery Acceleration, Walmart.
"It's a privilege for Women in Trucking to recognize Shelley Simpson as our 2023 Influential Woman in Trucking award winner," said Jennifer Hedrick, WIT President and CEO. "Shelley's passion and leadership for this field, including her commitment to expanding gender diversity in transportation, have been evident throughout her nearly 30-year career."
Simpson's career at J.B. Hunt reflects the company's continued progression as an innovative leader in the transportation and logistics industry.
Since joining J.B. Hunt as an hourly customer service representative, she has held multiple positions for business segments across the company, including most recently serving as Chief Commercial Officer and Executive Vice President of People and Human Resources.
In 2007, Simpson was named President of Integrated Capacity Solutions (ICS), a business unit she helped create. While continuing to develop ICS, Simpson assumed sales and marketing executive responsibilities in 2011 and was appointed Chief Marketing Officer. She took on additional leadership in 2014 as President of J.B. Hunt's Truckload business segment, helping improve the efficiency of the company's fleet.
Simpson was named Chief Commercial Officer in 2017, leading strategic direction of marketing, sales, customer experience, and external product development, including J.B. Hunt 360°. As the company evolved J.B. Hunt 360 and its technology-driven services, Simpson was also responsible for commercializing them on a global scale as the leader of International Services.
In 2020, she was named Executive Vice President of People and Human Resources, leading the company's efforts to create a more inclusive culture and work environment.
Simpson was named President in 2022, and currently provides management and performance oversight for all company business units, in addition to emerging technology, developing services and People and Human Resources.
ConMet acquiring TruckWings manufacturer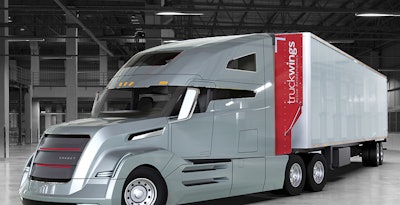 ConMet on Tuesday said it has acquired TruckLabs. The acquisition brings into the ConMet fold TruckWings, a truck-mounted aerodynamic device that automatically deploys at highway speeds to close the gap between the back of the cab and front of the trailer.
Under the terms of the agreement, 10-year-old TruckLabs will become a wholly owned subsidiary of ConMet. terms of the deal were not disclosed.
Manufactured by TruckLabs, TruckWings reduces drag, improves stability, and increases fuel efficiency by 3-6% – saving over 1,100 gallons of fuel and 15,000 pounds of carbon dioxide emissions for each diesel truck per year, or extending the range of electric and hydrogen vehicles, the company claims.
"TruckLabs' innovative TruckWings product is an ideal addition to ConMet's portfolio," said John Waters, President of ConMet. "Their technology, which has been proven through 750 million logged highway miles, aligns well with our goal of providing OEMs and fleets with forward-thinking, profitable solutions to improve fuel efficiency and reduce carbon emissions."
Through TruckWings' telematics technology, every mile is tracked to provide real-time reporting. The data shows the product has saved a total of 80 million pounds of carbon dioxide since its launch in 2015. Every TruckWings-equipped commercial vehicle is equivalent to removing two cars from the road. As the industry explores alternative fuels like electric and hydrogen, improved aerodynamics will play an ever more important role in addressing range extension and weight reduction.
"ConMet is the perfect partner to introduce our product to a wider customer base, and adds much needed scale to our manufacturing capabilities," said Daniel Burrows, founder and CEO of TruckLabs. "Together, my team and I are excited to join with ConMet to supercharge our impact on our customers' fuel costs and climate goals."
CRST acquiring BCB Transport
CRST (
CCJ
Top 250
, No. 21) has acquired Mansfield, Texas-based 275-truck BCB Transport.
"We are thrilled to have BCB join Team CRST. With an impeccable track record for performance and data driven mindset, BCB will complement CRST's Capacity Solutions business allowing us to find more ways to maximize our capacity and provide unlimited solutions for customers," said Hugh Ekberg, CRST President and CEO. "In addition to operational excellence, BCB's industry leading safety efforts align perfectly with CRST's culture that keeps safety at the core of all we do."
Public voting open for Transition Trucking award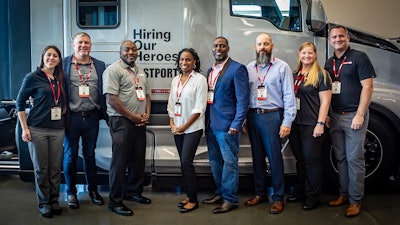 Public voting is now open for the "Transition Trucking: Driving for Excellence" award, a program dedicated to finding America's top rookie military veteran driver. The program recognizes top drivers who have made the successful transition from active duty to driving for a commercial fleet.
The general public is invited to cast their vote online on the Transition Trucking website by Nov. 11. A short video on each driver is available on the website. The voting is an important determiner for the Selection Committee as they make their ultimate choice for the next Transition Trucking award winner.
The finalists are:
Brandon Meredith, U.S. Army, Slay Transport (No. 192)
Ondrae Meyers, U.S. Marine Corps, CRST (No. 21)
Jessica White, U.S. Army, Stevens Transport (No. 52)
LaTravis Wilcox, U.S. Marine Corps, Prime Inc. (No. 16)
The winner will be announced on Dec. 15 at the U.S. Chamber of Commerce in Washington, D.C., and will receive a Kenworth 100th Anniversary T680 Signature Edition equipped with the Paccar powertrain featuring the MX-13 engine rated at 455 horsepower, TX-12 automated transmission and DC-40 tandem rear axles.
Smith System Improvement Institute acquired
Private equity firm MidOcean Partners has acquired Smith System Driver Improvement Institute, Inc., a B2B workplace safety training platform and provider of driver safety training for commercial fleets, from Levine Leichtman Capital Partners. Terms of the transaction were not disclosed.
Founded in 1952, Smith System established the first professional driver training company in the United States. Today, the company remains a leader in B2B driver safety training, while also offering comprehensive fleet management services and a rapidly growing, diversified suite of workplace safety training solutions.
"We're thrilled to welcome Smith System into the MidOcean portfolio," said Marshall Phelps, Partner at MidOcean. "The company has clearly and consistently demonstrated the power and effectiveness of its unique approach to safety training, and we're excited to continue building the premier B2B safety training platform alongside CEO Tony Douglas, Executive Chairman Derek Dunaway, and a great management team."
MidOcean plans to leverage its expertise to support Smith System's continued growth through both product enhancements and extensions as well as via organic and inorganic investments.
At the close of the transaction, current Smith System board member Derek Dunaway will become the company's Executive Chairman. Prior to joining Smith System, Dunaway was the CEO of TPC Training, a leading provider of industrial skills and workplace safety training, performance management, and environmental, health & safety compliance software solutions.