Trucking news and briefs for Friday, Sept. 29, 2023:
UPS acquires time-critical logistics firm
UPS (CCJ Top 250, No. 2) is acquiring MNX Global Logistics, a global time-critical logistics provider. The terms of the deal, which is expected to close by year-end, were not disclosed.
MNX's capabilities in radio-pharmaceuticals and temperature-controlled logistics will help UPS Healthcare and its clinical trial logistics subsidiary Marken meet the growing demand for these services in the healthcare industry. Alongside UPS Express Critical, the company expects to offer industry-leading global service to customers in need of time-critical, temperature-sensitive logistics.
"UPS already brings extensive capability and industry-leading on-time delivery to our customers, and that breadth and reliability is why they place their trust in us," said Executive Vice President and President of UPS International, Healthcare and Supply Chain Solutions Kate Gutmann. "Together with MNX, we will further that reliability and speed globally, especially for our UPS Healthcare customers. We continue to invest in services that bring unique value to our customers and create additional growth opportunities for UPS."
MNX CEO John Labrie said by joining UPS, his company will be able to use the MNX team's expertise in global, time-critical logistics within UPS's extensive network, "allowing us to provide our customers with the best possible service... MNX is confident that UPS is the best partner to help us accelerate our business into the future."
Headquartered in Long Beach, California, MNX serves 190 countries and territories with services that include Next Flight Out (NFO), Air Charter, On-Demand Courier, Managed Transportation, Service Parts Logistics (SPL) and Specialty Freight.
Used truck sales increase as prices remain flat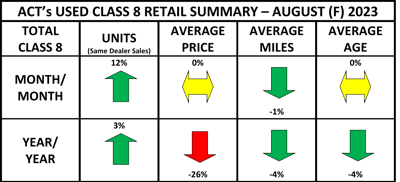 Class 8 used-truck sales rebounded in August after a larger-than-expected decrease in July, according to the latest report from ACT Research.
ACT reported that retail sales volumes jumped 12% in August, while average mileage on trucks sold fell by 1%. Average price and age were both flat.
Longer term, average sales volumes jumped 3% year-over-year, while prices are down 26%, and miles and age are both down 4%.
"Seasonally, August is the second-best sales month of the year, exceeded only by October," said Steve Tam, Vice President at ACT Research. "Auction sales also improved in August but recouped only a portion of the decline they saw in July. Wholesales rounded out the upbeat August market, with dealers trading 46% more trucks compared to July. Combined, the total market volume swelled 15% m/m in August."
Tam also commented on how the disposal of equipment from Yellow's bankruptcy is being handled. Like the liquidation of their terminals, the company overseeing the shutdown is actively seeking buyers for the trucks and trailers. Bids for interested buyers are due by Oct. 13.
"While estimates vary, the company owns approximately 12,000 tractors (primarily Class 8 day cabs) and 35,000 trailers," Tam said. "A sizable chunk of tractors was acquired within the past couple years. These late-model, low-mileage units will probably never see a used truck dealer's lot or the auction block. This will help to prevent the accelerated depreciation that would have hit had the trucks flooded the secondary market."
Brandt expands U.S. dealer network
The Brandt Group of Companies announced this week that Pinnacle Trailer Sales has joined its heavy-haul trailer dealer network.
Based in North Carolina with dealerships also in South Carolina and Virginia, Pinnacle has been supporting transportation industry customers for nearly 25 years. Integrating Brandt's heavy-haul trailers into their existing product offering will enable Pinnacle to provide options for increased efficiency and productivity to their customers, Brandt said.
"We are proud to partner with companies like Pinnacle that share both our passion for our industries and our commitment to taking great care of our customers," said Brandt Senior Vice President Sales – Manufactured Products, Jason Klassen. "We remain committed to the transportation industry, and partnerships like this extend our ability to effectively serve operators and fleet owners."
Pinnacle will carry Brandt trailers at all four of their locations on the East Coast and will stock Brandt's H450 and H650 heavy-haul trailers. With a wide-ranging operational area serving multiple industries, including agriculture, construction, and forestry, Brandt's heavy-haul trailer products will provide Pinnacle and their customers with best-in-class equipment and the parts and service to back it up, Brandt added.
"We're excited to be able to provide Brandt's well-designed and expertly built line of trailers to our heavy-haul customers," said Brett Tanner, Pinnacle's owner. "We see a unique opportunity in the H450, in particular, which should suit the needs of several customers in our area."