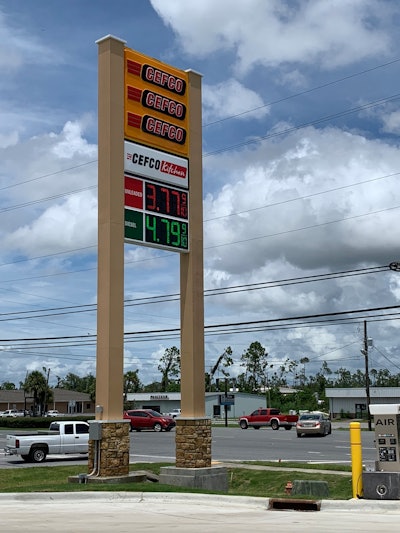 Commercial Carrier Journal
With Saudi Arabia talking of slowing oil production and pundits sounding the alarm on an oil tax increase in the Inflation Reduction Act, prices at the pump could very well be on the rise again following a welcomed decline.
Fuel prices have been trending downward with the national average price for regular gas dropping 12.6% month over month to $3.89 Tuesday, according to AAA, while diesel fell 9.3% to $4.97.
However, tough news in the overseas oil market and in the U.S. has some analysts warning that falling prices may be short-lived.
Saudi Arabia announced this week that it and other OPEC+ member nations may squeeze oil production given market volatility, according to Bloomberg. The news drove up the price of Brent crude 1.1% to $97.53 a barrel on Tuesday.
U.S. Oil and Gas Association President Tim Stewart told CCJ that "very few OPEC+ members (the plus being Russia of course) have any room to dramatically increase production. The capacity to cut is certainly there. The impact of course would be a jump back over $100 a barrel assuming we don't fall off the global recession cliff in the next 90 days."
Stewart added that OPEC+ influence on the U.S. oil market has gained momentum under the Biden administration.
"The sad thing for Americans is it was just two years ago when the shale producers had OPEC+ on its heels," Steward said. "They were responding to our production numbers and instituted a global price war to put our shale producers out of business. For a long period – we didn't care what OPEC+ was doing because we had achieved production numbers that made us largely independent of global price shocks. The pandemic and politics changed that."
Another cost pressure on oil is expected through the recently passed Inflation Reduction Act, which critics say continues the Biden Administration's work of propping up renewable energy production while squeezing petroleum-based fuels.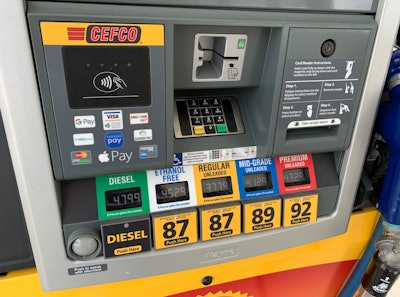 "The losers are fossil fuels," The Wall Street Journal editorial board reported recently in an opinion piece following IRA passage. "The bill imposes a new 16.4 cents a barrel tax on crude oil [in 2023] and doubles the current excise tax on coal production. It also includes a new methane fee, though it's unclear how it will be administered. These taxes along with multitudinous subsidies for renewables will reduce fossil-fuel investment. That's clearly the goal."
Stewart told Fox Business that the barrel tax was only part of the story.
"There are some other things in there besides that very visual 16-cent fee per barrel, which will have obvious impact on consumer prices," Stewart said during Maria Bartiromo's Wall Street. "The more residual long-term impact is what's happened to the federal lands component and the number of hidden fees and taxes that are going to be put particularly on the smaller producers as they move forward to conduct federal leasing. That's an equal if not greater concern for American consumers."
Not everyone thinks the IRA will hurt the oil industry.
Dan Eberhart, CEO of Canary, one of the largest oilfield service companies in the U.S., said the heavy subsidies that the IRA lays out for renewable energy interests, including major oil companies that have been pivoting to alternative fuels, will make for a smooth transition away from fossil fuels.
"The IRA should allow domestic oil and gas companies to transition at a reasonable pace, providing space for continued investment in oil and natural gas supply while encouraging the industry to advance decarbonization plans over time," Eberhart wrote in an article for Forbes. "It takes a 'more now, less tomorrow' approach to oil and gas – a policy that is gaining more traction around the world in the aftermath of the Ukraine crisis."
Saudis start late as alt fuel muscles in
While the IRA helps oil companies step up investments in renewable energy and reinstates the largest oil and gas lease in U.S. history (the 81-million acre Lease Sale 257 in the Gulf of Mexico), the industry as a whole is up against greater challenges and mixed messages that can ultimately hamper production, said Patrick DeHaan, Gas Buddy chief petroleum analyst.
"I don't know that [Lease Sale 257] will make much difference since the president kind of flip-flopped on allowing production then cracking down on leases, then allowing, then cracking down," DeHaan told CCJ. "There's mixed signals that the president's sending to oil companies that may still prevent them from wanting to raise production as quickly as possible."
[Related: Larger carriers cashing in on fuel surcharges]
Stewart told CCJ leases do not guarantee oil on site. "Sadly, there are a lot of billion-dollar holes in the ground throughout the world [that did not provide oil]," he said. Even if Lease Sale 257 does prove productive, it will be quite some time before that oil impacts the market.
"The challenge with offshore lease sales is twofold," Steward explained. "First, there is such a long window between the time the lease sale takes place and when production comes online – it is at a minimum of five years with 10 years being the norm – that any lease sale in 2022 won't have an impact on production numbers until 2032. But this is lost on Congress and the Administration.
"The second challenge is the level of investment required to play," Stewart continued. "It is a multi-billion-dollar gamble so offshore lease sales really limit the number of industry players to a handful of companies."
Failing to step-up production at the right time relative to market demand can lead to higher fuel prices, which DeHaan said was the case for OPEC+ following the COVID lockdowns.
"OPEC's inability to have read the markets accurately is absolutely having an impact," DeHaan said. "I knew that starting in July of 2021, when they started increasing production, it was way too late. OPEC is famous for dragging its feet.
"The Saudis and OPEC have let it go too long, and you can't make up for the lost time now," DeHaan continued. "You cannot make up for all the days that they didn't produce 35 million barrels as a cartel. There's no way to make up on that. And now they're in a tough spot of not having spare capacity as a result. So the market came back too quickly. They underestimated, and that policy is having an impact on what we're paying."
Another factor leading to higher diesel prices, DeHaan noted, is increased production of renewable diesel, which brings in more cash for refineries since the fuel is heavily subsidized.
"The government's timing is challenging," DeHaan said. "They're incentivizing renewable diesel so hard that refineries that had been producing traditional, non-bio diesel during the pandemic said, 'Hey, there's a huge incentive for us to do this.' And guess what? Now the price for diesel has skyrocketed partially because some of that refining capacity has been converted to renewable diesel."