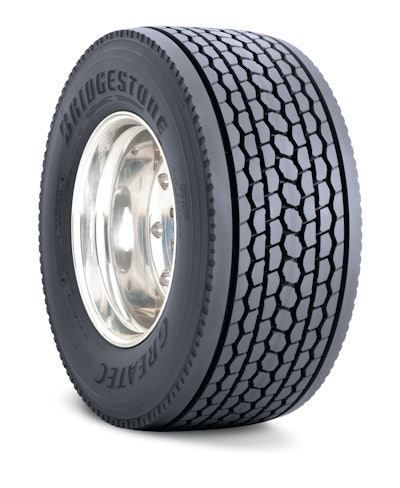 Bridgestone Bandag Tire Solutions' Greatec M825 wide base drive radial, designed to offer extended tire life and low cost per mile, weighs less than dual assemblies and is suited for weight-conscious fleets such as bulk haulers. The wider tread and deep 29/32-inch tread depth helps distribute weight and torque over a wider area for longer, smoother tire life. The stabilizing solid shoulder design combats side forces that can lead to irregular wear, while a stiff, staggered tread block design resists heel-and-toe wear. The tire's rugged tread compound resists squirm, while its aggressive tread pattern uses buttressed blocks to fight block tearing for more miles of smooth wear.
To enhance retreadability, straight shoulder grooves and an optimized groove design help reduce stone retention and groove bottom cracking. In the central tread grooves, casing-saving stone rejector platforms help prevent trapped stones from pushing deeper and piercing the belt layer, damaging the belts and exposing them to rust. Thick shoulder ribs on both sides fight curbing damage, protecting the casing; if one side wears away, flip the tire over for continued protection.
The M825 – available in size 445/50R22.5 with an "L" load rating – is built with Greatec's T.I.P. (Turn-In Ply) design that wraps the body ply around the bead bundle to promote a stronger, more resilient bead; and Bridgestone's Waved Belt design that helps balance stiffness and resiliency to provide a stronger, more stable casing that, in turn, produces a stable footprint shape throughout the tire's life.