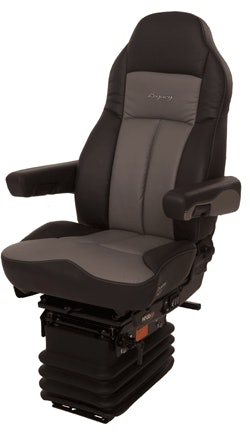 The Next Generation Legacy truck seat from Seats Inc. takes current Legacy features and adds a new look, enhanced back support and cushion comfort that utilizes sophisticated pressure-mapping equipment and longer EZ-adjust armrests. A newly designed backrest helps support the natural S-curve of the back, reducing fatigue due to improper posture. A concave frame structure and bolster radius supplies a "will-fit" design with side-to-side bolster support to enhance lateral support. A full 19-inch width in the shoulder region provides improved shoulder support to reduce back stress. Special designed air lumbar and back foam minimizes spinal pressure. The cushion also incorporates EVC Cushion Comfort Technology and D2 Foam Technology: EVC Technology lends a noncushion-board design that dampens vibration more than 51 percent, reducing discomfort due to unwanted tailbone pressure; and D2 Foam Technology is a strategically designed dual-layered pillow-top foam that provides support, longevity and comfort. A wider cushion entrance promotes natural leg positioning.
Additional features include:

Four variations: Legacy Gold (smart seat), Legacy Silver (affordable luxury), Legacy HD (heavy-duty suspension) and Legacy LO (low-profile seating);

Mid-back and high-back configurations;

Air Lumbar Support, available in 2-way and 4-way support;

Full recline;

Rubber below suspension cover; and

Available in UltraLeather, Tufftex or Microfibre cloth materials.