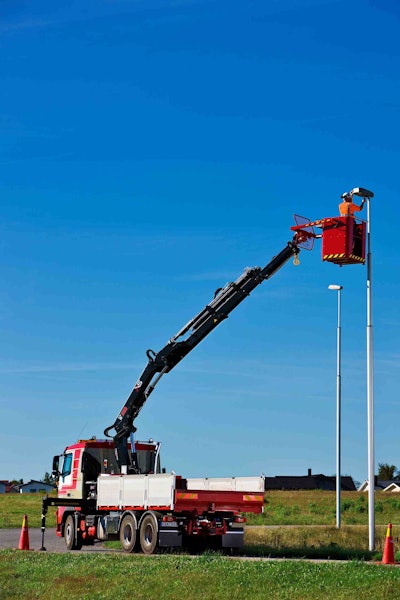 Cargotec's Mobile Elevating Work Platform – fitted on Hiab cranes and suited for maintenance jobs, bridge inspections and tree trimming – helps ensure safer and more productive work at heights through its Variable Stability Limit system designed for loader and recycling cranes. The VSL system maximizes crane capacity in relation to stability by registering how far stabilizer extensions are extended and ensuring that the legs are set firmly on the ground.
In addition, Hiab MEWP cranes are fitted with an upgraded operator protection system that provides additional safety by defining a "virtual protection cage" and electronically prevents the boom from entering this restricted space, making it possible to customize the cage by blocking out more space or changing its size.
The Hiab MEWP solution focuses on simplicity and user-friendliness. After the basket is mounted, the crane is placed in MEWP mode by means of a simple key switch. The Hiab XS HiPro crane retains full capacity in MEWP mode, and crane speed is optimized for comfort, safety and precision. The two-man personnel basket, available in steel or aluminium, can be used both indoors and out. An external safety rail reduces the risk of crushing. The basket's floor is nonslippery and self-draining.
The standard solution has automatic horizontal levelling of the basket and a battery charger, as well as a backup battery mounted inside the basket. In case of power loss, a manual emergency pump makes it possible to lower the personnel basket to the ground.