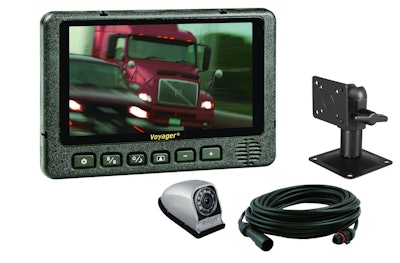 ASA Electronics' Voyager OBS713RCM Heavy Duty Blind Zone Camera System includes a 7-inch heavy-duty LCD monitor, a right-side camera, a monitor mount and 25 feet of cabling, and is made specifically for eliminating dangerous blind spots when backing up, changing lanes, merging and making wide right turns. The monitor – which delivers clear high-quality color images of the truck's surrounding areas – can be activated by DC triggers such as 12V impulses, including the left/right blinkers and the reverse gear; it also features an integrated audio speaker, backlit easy-to-use controls, manual or automatic source selection, day/night brightness modes and On Screen Display (OSD) for AV source, picture adjustment and volume control.
The monitor's slimline profile lends to an unobtrusive appeal for cab installation, and the anti-glare/anti-scratch protective lens keeps the monitor resilient in all conditions. The monitor, which can be paired with up to three cameras, offers12V and 24V system compatibility, circuit protection and a sealed housing to prevent moisture and dust from penetrating the inner components and circuitry.
The system also includes a sealed waterproof Voyager color right-side CMOS camera with a chrome housing, wide viewing angles – 101 degrees horizontal viewing – and CMOS technology that allows for increased picture quality, enhanced nighttime and daytime vision, and a decrease in camera size; the CMOS camera also is anti-blooming, which means direct sunlight will not wash out the images. The side camera can be installed easily with 90-degree mounting (model OBS713RCM); an adjustable right-side camera (model OBS713TCM) also is available to accommodate for angled fenders.