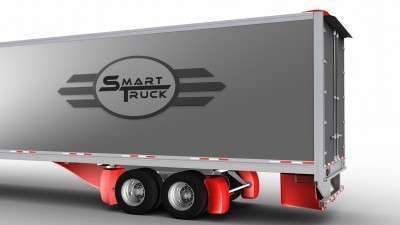 SmartTruck introduced a trailer aerodynamics system that avoids the usual sideskirts and instead reduces drag by managing airflow underneath and above the trailer. The company says its UT-6 Trailer UnderTray System provides a fuel efficiency gain of at least 8.5 percent with the base system and more than 11 percent with the full system, which involves wheel skirts and other items. The SmartTruck system is on the verified aerodynamic technologies list in the EPA SmartWay program, which means that the system is compliant with the California Air Resources Board's greenhouse gas regulations.
The SmartTruck system is made of durable polyethylene plastic designed to withstand road debris, chemicals, ice and other abrasions. The company says the system, which can be installed in as little as three hours, is designed to last as long as the trailer.
Initial customers include Con-way Truckload, Frito-Lay, and PepsiCo, and fleets evaluating the system include Swift Transportation, Lily Transportation and Fremont Contract Carriers.