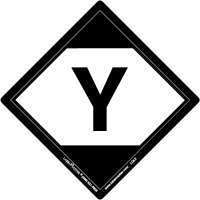 Labelmaster's Limited Quantity shipping labels for dangerous goods includes the mandatory "Y" that must be used Jan. 1. when shipping limited quantities by air. Additionally, a tabbed Limited Quantity label is suitable when the proper shipping name is required to be on the package of limited quantities. For ocean transportation, the black diamond label without the "Y" symbol is used.
The 100mm x 100mm Limited Quantity labels are required for most shipments, while the 50mm x 50mm Limited Quantity labels may be used when the package is too small to hold the full-size label; a Limited Quantity placard at 273mm x 273mm is used for ocean containers. Labelmaster's Limited Quantity paper labels are designed for strong adhesion to corrugated boxes and to resist chemicals and abrasion, while its Limited Quantity vinyl labels are constructed of rugged, flexible vinyl.
Limited Quantity Labels are available in paper or vinyl in rolls of 100 or 500 and packs of 25 or 50. The 273mm x 273mm placard is available in permanent or removable vinyl and sold in packs of 25.