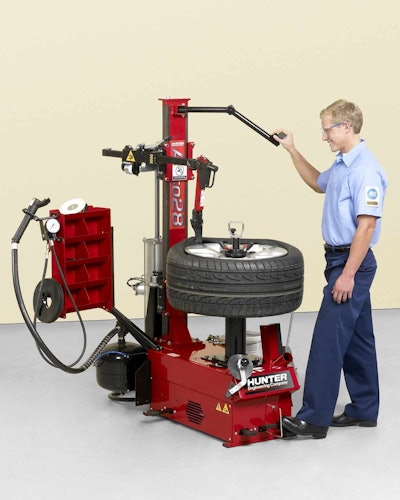 Hunter's Auto28 tire changer includes features, automated functions and a high-torque motor to service wheel designs from 10 to 28 inches in diameter. The tire changer features a proprietary tool head design that automatically slips easily between the rim edge and tire sidewall and extracts the bead gently in one fluid down-and-up motion without the use of bead levers. The electric motor exerts more than 850 foot-pounds of torque to mount stubborn beads, and the variable-speed drive system provides the ability to control the amount of force needed to service a wheel at the most efficient speed, while safeguarding against damage.
The center-support clamping table and self-centering quick clamp give the Auto28 the flexibility to mount a wide variety of wheel designs easily with the same clamping technique; the cam action of the clamping support multiplies the clamping force, automatically immobilizing the rim during mounting and demounting operations to help prevent slippage. The mount/demount rollers, which gently roll the tire off or on the rim, also hold the tire stationary while the rim is rotated to complete match-mounting procedures.
The bead press arm, which works with the bead rollers for faster mounting of difficult tires, pushes and holds stiff sidewalls in the drop-center of a rim as the wheel rotates, reducing the risk of bead damage. A control pendent and single foot pedal control virtually all tire changing operations, ensuring the same operation on all wheels regardless of the size, design or fitment. The Auto28 also features a side-mounted bead loosener using a side-shovel design and an optional wheel lift to help with heavy or expensive wheel assemblies.