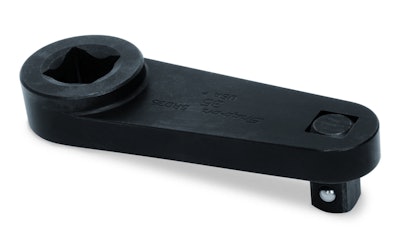 Snap-on's SRD35 Torque Adaptor is designed to not only let technicians reach bolts easily, but also deliver the extreme amount of torque needed to turn the bolts, eliminating the need to switch tools for 90-degree torque procedures. The tool has special applications for use on Ford F-250/F-350 trucks and Excursions (2003-2007) and Ford E-Series vans (2004-2009), including ambulance, law enforcement and shuttle bus conversions using the 6.0L Power Stroke diesel engine. Among the tool's highlights:
• Using the ¾-inch drive ratchet/torque wrench transmits the high torque necessary to loosen and tighten head bolts with less strain on the technician;
• The need to remove the truck/van cab from the chassis to access the rear head bolts is eliminated, saving time and preventing damage to the rear heat shield;
• The need to remove the evaporator housing also is eliminated, saving time and the additional cost of adding refrigerant during A/C recharging; and
• Coupled with an SWM181 18mm socket, all head bolts can be accessed, eliminating the need to change tools or remove the adaptor during the job.