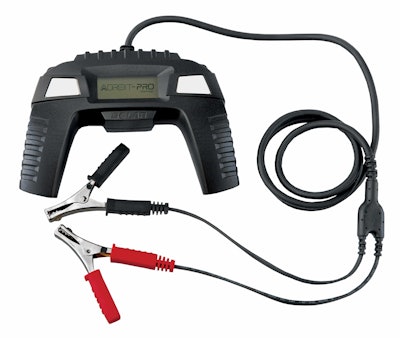 Clore Automotive's Digital Battery and System Tester for 6V and 12V batteries (Model No. BA44) from Solar is designed to offer a complete battery and system analysis solution for automotive service professionals and fleet maintenance facilities. The tester features an operating range of 1.5V-15V and the capacity to test a wide range of battery types rated between 40-2000 CCA, including conventional, maintenance-free, AGM, gel cell, deep cycle and marine batteries.
The tester features easy, intuitive operation and can assess the condition of discharged batteries as well as an assessment of starting systems and charging system performance. It can be programmed to operate in seven languages, including English, Spanish and French, and features a counter to keep track of how many tests have been performed. The ergonomic design provides easy handling during transport and use for both right- and left-handed technicians.
The tester also features long 6-foot leads for convenience; a bright, backlit LCD display that can be adjusted for optimal use in both bright and low-light environments; and a variety of safety features, including reverse polarity and overvoltage protection.