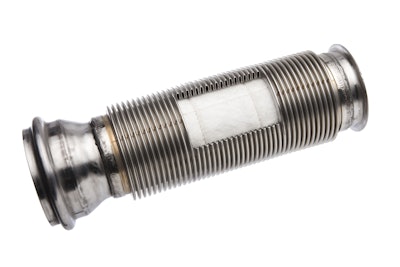 Tru-Flex Metal Hose's internally insulated, zero-leak, torsional and nontorsional bellows provide an alternative to exterior "blanket" methods. The design includes a no-leak decoupler that accommodates all four motions, including torsion, and is suited for engine layouts that have exhaust outlets in parallel with the crankshaft, or that demonstrate torsional outputs that create more than 2 percent displacement at the site of the exhaust outlet.
The bellows are engineered to reduce heat loss by up to 88 percent, while the dampening effect of the internal insulation is designed to provide a 70 percent noise reduction over noninsulated systems while also reducing static loss, helping to increase vehicle engine performance and overall fuel efficiency.
The bellows have a flexible, interlocking interior liner designed to enhance fatigue life by reducing exposure to superheated exhaust gases. The interior layer is available in inside diameters ranging from 2½ to 6 inches and sleeved in an insulation material that is not exposed to external elements or atmospheric conditions.