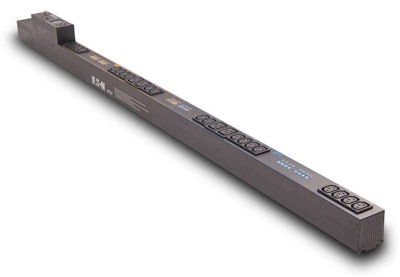 Eaton's additions to its ePDU product family enable enhanced power distribution and management at the information technology rack enclosure level. The company's Advanced Monitored and Managed ePDU products are designed to provide high-accuracy monitoring and control power consumption at the individual outlet level. The models support a range of applications, from networking closets to high-density data centers.
Designed for the needs of the modern data center, both Advanced Monitored and Managed ePDU technologies monitor critical factors such as voltage, current and power factor. The outlet number identifications are color-coded to match the outlet section to the appropriate circuit breaker. The managed units are designed to provide full control of each outlet, allowing users to remotely switch the outlet on, off or reboot. Eaton is offering 14 configurations available with eight different input plugs, featuring 200V-240V power output to C13 and C19 outlets.
The Advanced Monitored and Managed ePDU line provides outlet level power consumption for Level 3 power usage effectiveness calculations. An optional Environmental Monitoring Probe is available to track temperature, humidity and contact closure at the rack level. Each model also features an advanced pixel LCD display that provides local readings for phase balancing and loading and also allows for multiple lines of text to view outlet information and configuration through the menu interface.