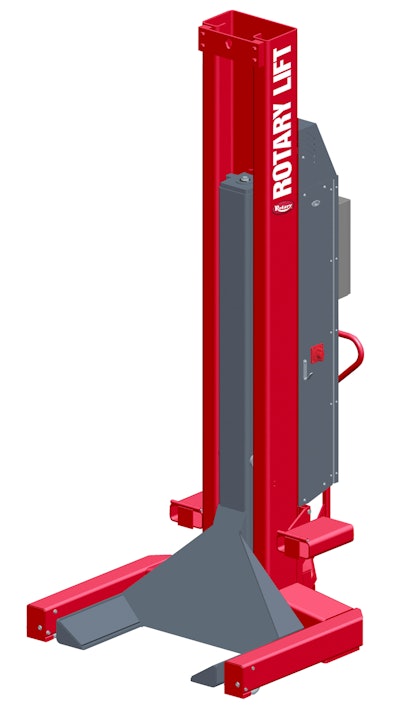 Rotary Lift's RCH4 mobile column lifting system has an easy-to-use operator-friendly design for greater bay productivity and reduced vehicle downtime. The RCH4 is available in sets of four, six or eight battery-operated columns; each column is identical and has a rated capacity of 18,000 pounds for a total lifting capacity of up to 144,000 pounds. The RCH4 also features Rotary Lift's automatic steering system designed to make it faster and easier to position the columns for service; fixed forks fit most large tires without adjustment.
Every column is equipped with Rotary Lift's intuitive control panel that includes a graphic layout of the column setup, real-time height reading and error display, battery indicator, programmable height limit settings and one-touch controls. Lifting and lowering of all columns is synchronized automatically, and a slow-lowering function is designed for precision vehicle positioning. Technicians can operate the entire lift from whichever column is most convenient.
The RCH4 is battery-operated with an internal charger, while its hydraulic cylinder is inverted to help protect the chrome piston rod from debris and damage, helping to extend the life of the lift and reduce maintenance costs.