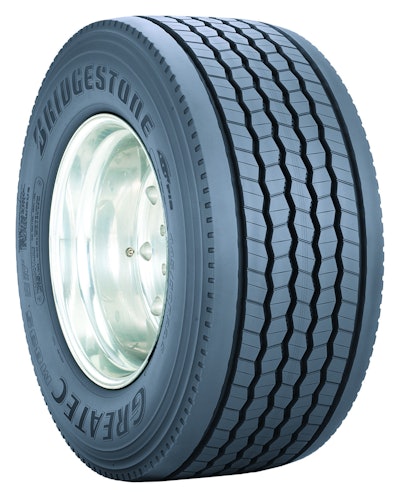 Bridgestone Tires' Ecopia series of fuel-efficient tires are designed to reduce overall tire wear costs by fostering retreading. Five tires in the Ecopia series are complemented with equivalent Bandag FuelTech retreads to reduce life cycle costs.
NanoPro-Tech polymer helps control particle movement by bonding the carbon black in the tread more securely at an atomic level, which reduces flexing and related energy loss. Fuel Saver sidewall compound runs cooler, while the IntelliShape sidewall – found in the M710 Ecopia drive radial and R197 Ecopia trailer tires – contains less bead filler volume, which lowers tire weight, improving fuel economy and conserving natural resources.
The R283 Ecopia steer tire's casing life is extended due to a Defense Side Groove that helps create uniform pressure along the footprint at the shoulder and helps extend tread life. A High Rigidity Tread Pattern helps extend wear, while a Waved Belt design in Greatec Ecopia tires helps improve durability, contributing to a more retreadable casing. Turn-In-Ply technology helps enhance durability and retreadability over the life of the casing. All these features remain after retreading, extending both the fuel efficiency benefits and tire life.
B710 FuelTech drive and B197 FuelTech trailer retreads complement the Ecopia drive and trailer tires. For users of wide base singles, there are Bandag B835 FuelTech and B135 FuelTech retreads based on the Bridgestone Greatec M835 Ecopia drive and Greatec R135 Ecopia trailer radials.