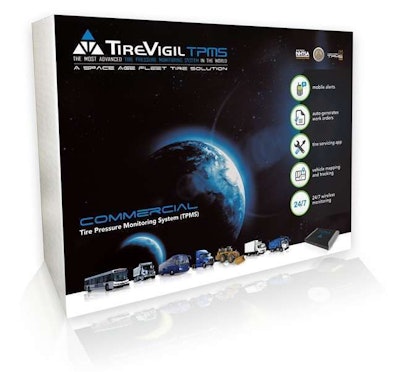 TireStamp's TireVigil tire pressure monitoring system is designed to meet the new TPMS 2.0 standard for commercial TPMS products and incorporates wireless technologies that provide remote diagnostics for tires so that fleet personnel as well as drivers are aware of developing tire problems and can react appropriately depending upon their vehicles' location. In addition to providing alerts for underinflation, overinflation, overheating and differences in dual tire pressures, TireVigil TPMS also reminds fleets to retorque wheel nuts after tire changes to help prevent wheel-offs and tire fires resulting from frozen bearings and dragging brakes.
Every alert reports the vehicle's last known location and provides vehicle mapping and tracking. The solution also provides reminders for preventive maintenance scheduling and visibility on vehicle speed, idling and ignition on/off status. It also can track the mileage a vehicle runs in each state for preparing fuel tax reports. Alerts and reports are e-mailed to all fleet-designated users, including service organizations.
The technician-friendly Servicing App records tire service work and changes sensor positions with a click of a mouse. The app also can be used to monitor the driver by tracking where a vehicle has been, its speed and when the ignition was turned on and off. The in-cab display will log when the driver acknowledges tire alerts. Its cloud-based system can be integrated with fleet backend management systems, providing visibility not only of the tires on one vehicle but also all of the tires in the fleet.