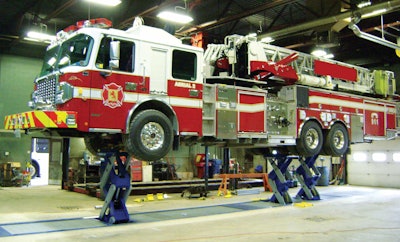 Rotary Lift's EFX90 heavy-duty modular inground scissor lift incorporates three heavy-duty scissor sections to lift vehicles weighing up to 90,000 pounds, including articulated buses and vehicles with tandem axles such as fire trucks, dump trucks, semi trucks and other vocational and over-the-road vehicles.
The EFX90 includes the company's universal-style lifting saddle with flipup adapters, making the lift compatible with a wide selection of lightweight adapters. An infinite adjustment range is designed to allow technicians to position adapters precisely where they're needed for proper lifting; the adapters swivel, making it possible to pick up vehicles by either the frame or the axle.
The EFX90 uses reinforced cover plates and heavier centering links with pivot pins that have more bearing surface area to facilitate extended service life and are protected by the company's Smartguard corrosion protection. The lift features Rotary Lift's heavy-duty locking system.