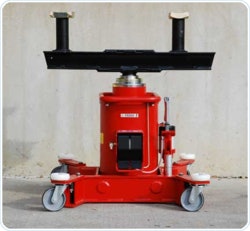 Stertil-Koni's free-standing rolling pit jack has a capacity of 30,000 pounds and is designed specifically to operate safely on the pit floor – entirely independent of upper pit edges. Lifting is done by an air-driven fully hydraulic pump actuated by tandem foot pedals. One pedal raises the piston to be in contact with the vehicle being lifted, while the other is designed to allow precision lifting in small increments, allowing the technician to work on the vehicle or operate other tools hands-free.
The jack frame is supported on wheels to simplify relocation within the pit; the frame is designed to settle to the floor immediately when a load is applied, while the jack is engineered to draw the piston back quickly and easily, even when unloaded, to ensure that the vehicle does not contact the jack while driving over the pit.
Both the piston rod and the pump piston are hard chrome-plated for added protection against corrosion and water, while the carriage is built to lower automatically when handling loads of 1 ton or more; the integral locking brakes provide added stability. Two models are available: The FPJ-150-F is fitted with a fixed vertical piston, while the FPJ-150-U has a vertical piston that moves side to side.