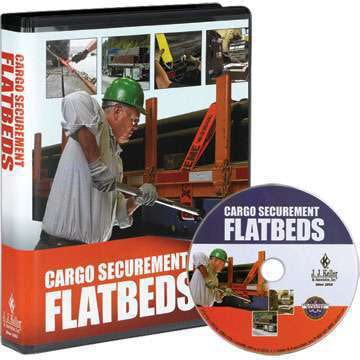 J.J. Keller & Associates' "Cargo Securement: Flatbeds" driver training program is designed to reduce the risk for cargo securement violations, accidents and liability. The program teaches drivers how to keep their flatbed loads in place and in compliance, going beyond the minimum requirements by including best practices and how-to information to further ensure proper and safe securement, while underscoring the impact of cargo securement violations on both the individual driver and the carrier under Compliance Safety Accountability.
The program covers correct tiedown use, rub rail issues, headerboards and other aspects of proper cargo securement, and also includes separate segments on the five most common types of commodities: heavy equipment, lumber and building materials, metal coils, concrete pipe and logs.
The program features a closed-captioned DVD video that includes a Main Program, Hazard Perception Challenge Scenarios, a 10-question Quiz and a Note to Trainers. The video demonstrates proper load securement by using situational scenarios to increase drivers' comprehension. Supporting materials include an Instructor's Guide, a Trainer Tools CD-ROM with two PowerPoint presentations and an Awareness Poster.
A Driver Training Packet contains a "Cargo Securement: Flatbeds" Driver Handbook, a Cargo Securement Handbook for Drivers and a Cargo Securement Sliding Calculator.