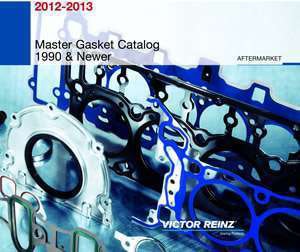 Mahle Clevite Inc. recently expanded the Victor Reinz gasket product offering with a new catalog including 1,570 new part numbers and expanded coverage on model years 1990 and newer. The catalog is now available in print or for PDF download on www.mahle-aftermarket.com. The new product numbers and coverage also can be viewed in Launchpad, a portal of eCatalogs.
Mahle Clevite said the new gasket catalog contains a total of 6,875 unique gasket part numbers that cover more than 220 million vehicles in operation. "Our new gasket catalog contains the largest selection of multilayered steel gaskets in the industry," said Duane Bethke, Team Coordinator II (Gaskets), Mahle Clevite. "We are pleased that our new catalog not only expands our gasket coverage in the aftermarket, but also further exemplifies our commitment to 'OE Form, Fit, and Function.' "
Launchpad features an "Add to Cart" ordering function tied directly into consumer accounts. Users do not have to be logged in to search for an application, but if logged in, they can add parts from any electronic catalog to the eCommerce ordering tool, MahleCleviteOrder.com.
Additionally, the expanded gasket product offering data can be requested in the OptiCat industry data repository, a system that allows for the delivery of critical data to one centralized location and in one format. All data is validated and delivered to subscribers in the ACES format – the industry standard for the management and exchange of automotive catalog and vehicle data. Once registered, users can subscribe to ACES Victor Reinz.
To download a PDF of the new Victor Reinz gasket catalog, go to www.mahle-aftermarket.com/MAHLE_Aftermarket_NA/en/Catalogs-&-Literature/Catalog-PDFs/Gaskets.