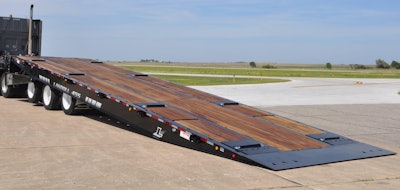 Landoll Corp.'s Model 455 Traveling Axle trailer now is available with an optional Hydraulic Kicker Roller Package designed to allow skid-mounted equipment for oil fields and other industries to be loaded from the ground onto the trailer deck.
Heavy-duty 4½-inch rollers are stored below the deck surface while the trailer is transporting construction equipment and other commodities. When the operator needs to load skid-mounted equipment, the rollers are raised hydraulically 2½ inches above the deck with a dual-cylinder lift system; each roller has a 10,000-pound capacity. The package is available with four rollers or an eight-roller package for longer loads.
The Landoll Model 455 is a triple-axle 55-ton trailer available in widths of 102 or 120 inches. With the standard hydraulic winch, the operator can pull heavy skids onto the deck at a low 6-degree load angle.