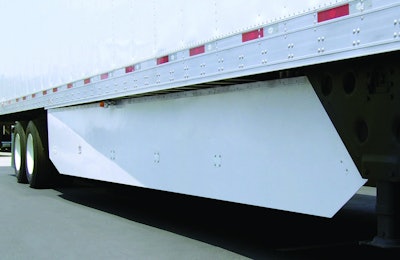 Utility Trailer Manufacturing Co.'s aerodynamic Side Skirt 120A-4 is verified by the U.S. Environmental Protection Agency's SmartWay program to achieve greater than 5 percent fuel savings and can be used in combination with low rolling-resistance tires on Utility trailers to achieve California Air Resources Board compliance.
The skirt is engineered to achieve greater ground clearance to reduce impact damage; its galvanized high-tensile steel bracing system allows the side skirt to flex both inward and outward, and to be bent back if damaged. The skirt also is manufactured with a UV-protected bidirectional fiberglass reinforced plastic construction, while its forward edge is bolted securely with a spring attachment at the support leg assembly.
For more information, go to www.utilitytrailer.com.