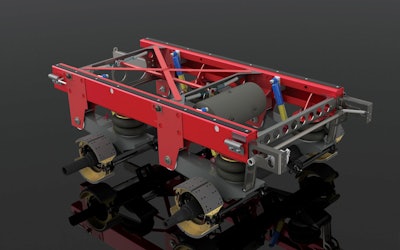 Reyco Granning's trailer suspensions team has developed the DockMaster 400 air slider axle system, available when spec'ing trailers today. Vice President Joe Gallo describes it as an opportunity for fleets "to increase their return on investment" with an easy-to-install system. Reyco introduced the DM400's proprietary design this week at the American Trucking Associations' Technology and Maintenance Council annual meeting in Nashville, Tenn.
Its features help fleets reduce maintenance costs, Gallo says. "The DM400's unique design has resulted in a 'just right' balance of strength and weight." The result, once thought unattainable, he adds, is an air-ride slider that is both lightweight and the epitome of durability in curb impact testing.
Designed for dry freight trailers, refrigerated trailers and trailer-on-flatcar (TOFC, intermodal) applications, the DM400 suspension design has more than 600 million miles of service in testing and has endured more than 4,600 miles on the Bosch track.
The DM400's seven gauge nine-inch Super-C frame rails and unitized wraparound hangers offer added protection. Designed to fit Binkley, Hutch and TTMA rails, it's built with side wear pads in the hanger, enhanced corrosion protection, Q plus brakes and 4.5-inch multifunctional pivot bushings to provide optimum control, performance and life expectancy.
According to Gallo, this key design feature of the DM400 combats high levels of curbing sometimes expected with an influx of newer drivers. "The DM400 doesn't even begin to buckle at 50,000 pounds." As a bonus, the DM400 comes with an exclusive seven-year warranty Gallo says covers not only parts but labor as well.
Another safety feature included in the DM400 is its air pin release, allowing users to avoid back injuries via a manual pin release system. The DM400 features the company's Rey-Align "one person" alignment system.