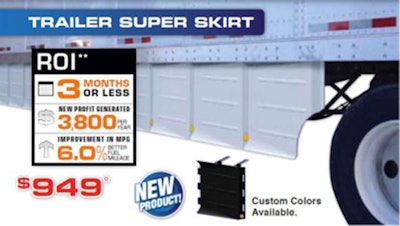 BetterTrucker.com's Super-Skirt System is a modular side skirt for semi-trailers with two 1-foot-wide panels that interlock with each other to help simplify installation. No cross-member braces under the trailer body are needed due to built-in stanchion support structures that secures every panel onto the trailer i-beams with two galvanized J-bolts.
A rigid dimensional design helps disrupt laminar airflow to maintain directional control of the air, reducing surface drag and preventing wind from slipping under the trailer. The skirt also has aft-facing safety reflectors.
For more information, go to www.bettertrucker.com.