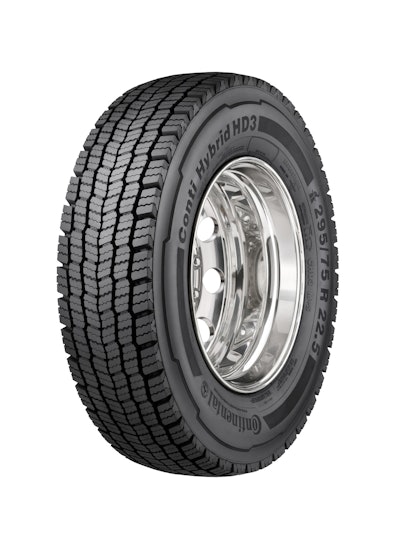 Continental's Hybrid HD3 drive tire is designed for fleets that want to place one tire on vehicles that run both linehaul and regional-haul routes.
The tire, Continental's widest dual drive tire at 248 mm, has a 27/32nds tread depth in a "regenerating pattern" cut in three dimensions that, along with a large tread volume, facilitates long tread life as well as a larger footprint that helps provide added traction when operated on highways.
The Hybrid HD3's tread geometry helps provide greater traction in regional traffic. The tire is available in sizes 295/75R22.5, 11R22.5 and 11R24.5, and will be available as a ContiTread retread product in late 2013.
For more information, go to www.conti-online.com.