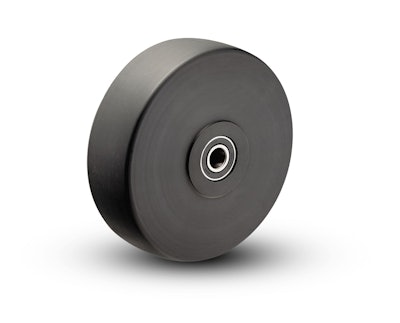 Colson Caster's heavy-duty Commander HD wheel is designed for added performance in rugged applications and environments requiring high-load requirements and impact resistance. The wheel is constructed of a high-impact polymer and is machined, not injection-molded, for added resilience and impact strength; the polymer also resists moisture and most chemicals, making it suitable for corrosive environments.
The wheel features a slightly crowned tread profile to facilitate easier rolling for die carts, engine hoists and ground support equipment. The wheel is available in 4-, 5-, 6- and 8-inch diameters, each with a 2-inch tread width; a 3-inch tread width also is available for 8- and 10-inch sizes. Capacities for each wheel range from 2,000 to 7,200 pounds.
For more information, go to www.colsoncaster.com.