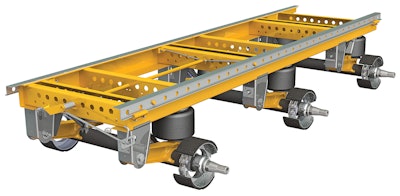 SAF-Holland's SAF CBX69 tridem slider suspension system for trailer applications delivers the same features and benefits of the company's CBX40 in a triple-axle configuration. The lightweight air suspension design and slider box technology brings added durability, while the slider box design provides a high strength-to-weight ratio for increased cargo.
The system features the SAF X-Series 5.75-inch-diameter axle with a lightweight, robust 11mm wall axle designed for higher duty-cycle applications. The system features Holland's Swing Align technology engineered for quicker, easier axle alignment and Black Armour metal treatment for added corrosion protection.
For more information, go to www.safholland.com.