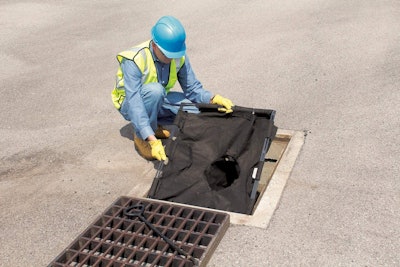 New Pig's Quick-Fit Drain Insert is designed to filter oil and sediment out of wastewater before it reaches stormwater outlets. The adjustable insert requires no retaining rods or trimming for installation, and its metal frame slides in four directions to match the size of drain openings from 16-by-26 inches to 20-by-32 inches.
Suited for areas with high vehicle traffic, the insert features a below-grate design and an 18-inch-deep accumulation pocket to collect sediment, debris and oil. Geotextile fabric lets stormwater flow through, and high-flow storm ports help to avoid backups during extreme storm events.
For more information, go to www.newpig.com.