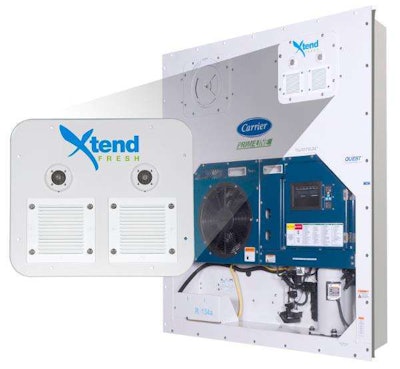 Carrier Transicold's XtendFresh container atmosphere control system is designed to help maintain the quality of shipped produce while extending shipping distances. The system is engineered to control oxygen and carbon dioxide levels and remove ethylene, a hormone given off by ripening produce that can accelerate ripening if left unchecked.
The modular system is available as an option on new Carrier TRUs and can be added to existing units equipped with the Micro-Link 3 controller. Components include a scrubber assembly, a ventilation panel with an integral blower, control software and sensors for monitoring O2 and CO2; an optional humidity sensor is available.
The company also recently introduced its ultra-high-efficiency X4 Series, which includes the 7500 and 7300 single-temperature belt-driven models.
For more information, go to www.carrier.com.