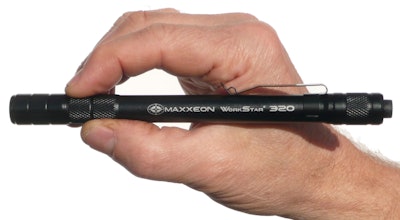 Maxxeon's WorkStar Pocket Floodlight lighting tool features an advanced LED that produces more than 140 lumens of light for demanding shop, manufacturing, maintenance and outdoor environments.
The wide-angle floodlight-style beam pattern is designed to be clear and free from dark or hot spots, making it easier to view an inspection area more clearly, and is most effective at a range of 6 inches to 3 feet. The compact, lightweight penlight-style lighting tool clips into a pocket and is powered by three AAA batteries for a service life of about 50,000 hours.
The aluminum body is anodized black, and all threaded joints have rubber O-ring seals for improved water resistance. The tail cap switch is rated at 100,000 cycles and is sealed to avoid contamination by dirt and grit.
For more information, go to www.maxxeon.com.