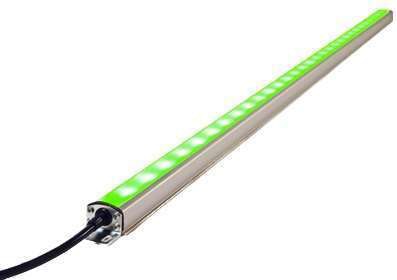 Pine Meadow Controls' Illumadoor LED Signaling System is comprised of LED strip lights and a combination power supply junction box. Each 1-meter strip has 30 LED modules containing individual red, amber and green colors; the overall LED strip is enclosed in silicone and then mounted in an aluminum extrusion with diffusing lens and brackets for added protection against the elements.
A combination power supply and junction box is available to help simplify installation of multiple LED strips. When mounted on the truck side of a loading dock and connected to a motion detector, the amber flashing lights act as a guide for the driver when backing; the red and green colors are available to indicate stop and go conditions.
For more information, go to www.pmcdoor.com. Also, check out Ecco's LED beacon.