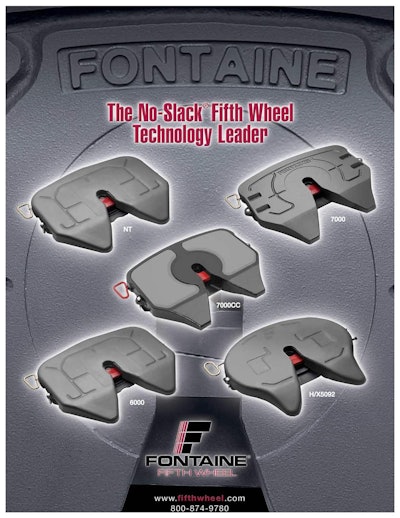 Fontaine Fifth Wheel has released a new 20-page catalog that covers its full line of fifth wheels. The comprehensive catalog replaces multiple individual product brochures to simplify the fifth wheel ordering process.
"In the past, individual product lines had their own literature," says Todd Kuipers, key account/marketing manager for Fontaine Fifth Wheel. "This new catalog brings everything together in one place. That way, when it is time to order a new fifth wheel, there are no questions about where to turn. The catalog includes every top plate and bracket we produce, so customers can mix and match parts depending on their needs."
To make the re-ordering process as seamless as possible, the catalog includes a breakdown of Fontaine's part numbering system. Using the part number diagram, a customer can determine which fifth wheel assembly is currently on his or her truck. A matching fifth wheel can then be ordered, or the customer can change the top plate, mounting bracket, release, height or slide travel.
The catalog provides answers to some frequently asked questions and uses photos to illustrate three areas that should be inspected after every couple. Fontaine's five duty classes – standard, moderate on-highway, moderate off-highway, severe on-highway and severe off-highway – are outlined in detail to aid in the selection process.
"When ordering a fifth wheel, you must look beyond its vertical load capacity," explains Kuipers. "A heavy load pulled across a smooth surface places less stress on a fifth wheel than a light load pulled in severe, off-highway conditions. Using the breakdown of duty classes in the catalog, customers can see which fifth wheels will work best for them based on vertical load capacity, road type, mileage between stops and trailer axles."
With five top plate models, nine mounts and several release styles to choose from, the catalog lists more than 175 fifth wheel assembly options, providing fleet operators in any industry with a perfect fit. The catalog even includes QR codes that link back to additional information at www.fifthwheel.com.