Accellos, a provider of supply chain execution software systems, in conjunction with Rand McNally, announced that GSA International, Ltd. (GSA) has fully deployed Rand McNally's TND 760 mobile fleet management system in tandem with the Accellos Prophesy Transportation Management software across its fleet of 40 trucks.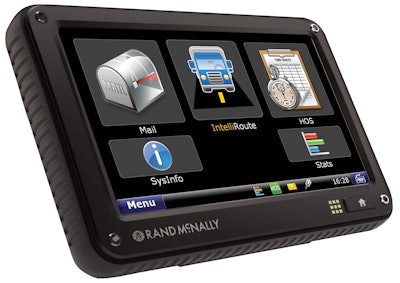 GSA is a Michigan-based, full-service logistics provider.
"After installing the TND 760 devices we've realized significant improvements in operating efficiency, to the point where we foresee freeing up an entire headcount in our dispatch area, allowing for the growth of capacity without adding additional overhead," said Mark J. Simpson, vice president of GSA. "Before, a dispatcher had to take information from one system and literally type the information into another to send and receive information from the driver. The activity is now seamless between our Rand devices and our Prophesy Dispatch system."
GSA uses the Prophesy Dispatch and Accounting system. Choosing a mobile fleet management product that offered a solid integration with Prophesy was a critical factor in choosing Rand McNally's TND 760, he said.
Integration with Prophesy Dispatch had been announced previously by Rand McNally. The partnership has benefitted joint customers by making mobile communications available to fleets of all sizes. Prophesy customers on average are running fleets of between twenty and fifty trucks.
"We've been very pleased with the results that Rand McNally's seamless integration has provided to our clients," said Bill Ashburn, Accellos senior vice president, Prophesy Transportation Solutions.