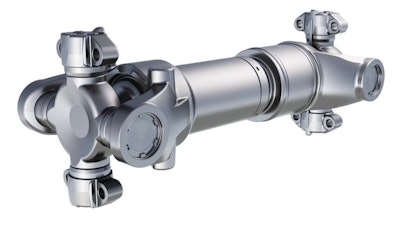 Meritor has extended the warranty eligibility for Permalube RPL drivelines to 5 years/500,000 miles from the previous 4 years/400,000 miles for model year 2015 linehaul vehicles.
"Meritor's Permalube RPL driveline was the first available permanently lubricated driveline for linehaul vocations and is now the first to offer this type of warranty coverage," said Chad Mitts, general manager, North America, Brakes and Drivelines for Meritor. "The Permalube RPL driveline has great performance, durability and warranty coverage and will offer extended life with minimal downtime and maintenance to customers."
The Permalube RPL driveline offers a bearing package with large-diameter trunions and precision-tolerance needle bearings for optimum bearing alignment and maximized performance. The RPL is permanently lubricated with Meritor's specially formulated wear and temperature-resistant grease. Two-piece U-joint thrust washers prevent bearing end wear and absorb loads for minimized wear and extended lifecycle. The driveline is retained with four patch lock bolts for simplified installation and ease of service.
Meritor's warranty coverage and how to submit claims can be found on the company's website at meritor.com under the customer care tab.