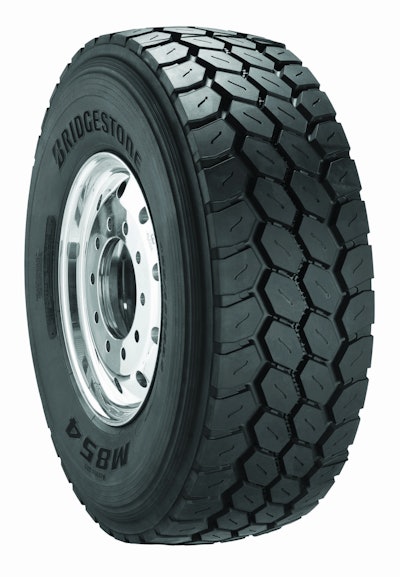 Bridgestone Commercial Solutions has introduced its newest rib-type all-position tire, the Bridgestone M854, ideal for severe on/off highway applications. The wide base radial, specially fabricated for the construction and refuse markets, meets the tough environment demands of dump trucks, cement mixers, bulk carrier equipment and logging applications.
"Construction, logging and refuse fleets travel on loose terrain and uneven surfaces, which requires a specially designed tire to withstand these demands," said Matt Loos, Director of Truck & Bus Marketing, Bridgestone Commercial Solutions. "The M854 features advanced construction providing long mileage, aggressive traction and strong casing durability. A wide footprint maximizes tire grip, while cap/base compounding and optimized casing construction improve overall occurrence of irregular wear, extending original tread life."
Additional features of the Bridgestone M854 include:
Aggressive tread pattern provides ideal traction
Wide tread design provides higher payload and flotation so tires maintain grip and traction without digging into the ground
Special compounding extends life while providing resistance to cuts, chips, tearing and irregular wear
The Bridgestone M854 comes in three sizes in the U.S. and Canada. The 425/65R22.5 is available now. The 385/65R22.5 and 445/65R22.5 will be available later this year.