SmartDrive Systems, a provider of driving performance systems that reduce collisions and improve fuel efficiency, announced the fourth major enhancement to its platform in the last 12 months with the addition of 'Dynamic Range' Safety Events and new U-Turn event triggering.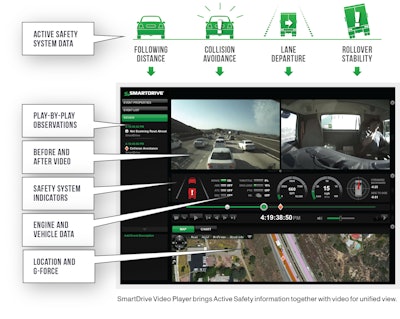 According to the company, the new capabilities further expand the spectrum of risk captured by its platform, enabling SmartDrive to accurately identify and measurably reduce a fleet's high risk safety events within weeks of starting the program.
When coupled with SmartDrive's Active Safety System integration, the capabilities will provide greater contextual insight into the riskiest driving that results in collisions, including following too close, excessive lane departure as result of drowsiness or distracted driving, and U-turns, the company says.
Traditionally, event capture has been focused on fixed ranges around an event, capturing the same amount of video before and after, regardless of the type of event that occurred. With 'Dynamic Range' Safety Events, the video capture window dynamically adjusts based on the specific type of event, focusing on the riskiest driving and providing the insight that is essential for understanding root cause.
As an example, 'following too close' is a high risk contributor to collisions, especially when combined with other factors like speeding and distracted driving. When a driver is following too close, the 25 seconds that led up to the warning from an Active Safety System may be the riskiest driving. Fixed event capture misses 10 seconds or more of that video. The total event video length for these events varies based on the subscription level customers have selected. By adapting to a fleet's specific driving environment, SmartDrive delivers deeper insight for fleets on their unique areas of risk.
"These new capabilities provide targeted contextual insight to the specific driving situation in the highest risk events," said Steve Mitgang, CEO of SmartDrive. "When you couple it with real time alerting and the ability to automatically put critical safety event video in the hands of fleet managers in under five minutes, we transform the speed with which fleets are able to respond to and manage the riskiest safety situations happening on the road every day."
The new capability builds on SmartDrive's integration with the leading third party Active Safety Systems, which are calibrated to specific vehicles and are designed to detect situations unsafe for those particular vehicles. 'Dynamic Range' Safety Events are available for following distance and lane departure warnings as well as the new U-Turn trigger, which automatically identifies when a vehicle is executing this extremely unsafe driving maneuver.