Ventev Wireless Infrastructure, a division of TESSCO Technologies Incorporated, introduced three new TerraWave LTE-band Mobile Antennas that augment cellular connectivity even in the most remote locations. The mobile antennas support 3G/LTE, SCADA, wireless backhaul and broadband communications for applications such as asset tracking/RFID and remote monitoring (M2M), fleet management and public safety in the energy (utility, oil and gas), industrial, warehouse and transportation sectors.
"Our new TerraWave Mobile Antennas expand Ventev's comprehensive portfolio of integrated LTE solutions for all applications as well as power management, RF management, cable routing, and environmental and security protection," said Jeff Lime, Vice President of Ventev. "No matter how remote, we've got you covered."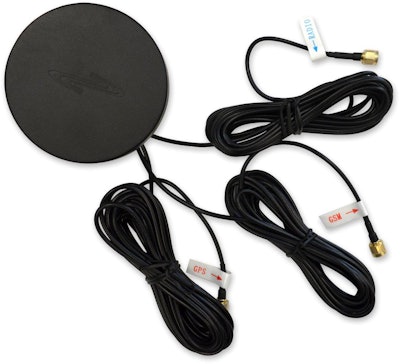 The 3G/LTE Terminal Omni Antenna is designed for use in environments where robust cellular connectivity is needed for data/voice/video, SCADA/telemetry and process control applications. The Terminal Omni Antenna supports a broad range of 3G/LTE modems and terminals while eliminating cable loss and performance variations associated with antennas integrated with extension cables. It includes a hinged right-angle SMA connector that allows flexibility to support various connector positions.
The 3G/LTE Outdoor Omni Antenna is ideal for remote monitoring in the oil and gas industry and also for smart-grid and utility meters. It is a robust antenna that can withstand the elements and consistently provide 3G/LTE omni-directional coverage and connectivity.
The 3G/LTE/Wi-Fi/GPS Omnidirectional Antenna is designed for M2M communications such as tracking assets in the manufacturing and warehouse industries, and remote monitoring in the oil and gas/utilities industries. It is also used in public safety for broadband communications and fleet management. The Omnidirectional Antenna is ideal for space-constrained or budget-conscious users because it provides multi-frequency coverage in a small form factor. It includes three 13" pigtails; one dedicated to GPS for communicating location; one to the Wi-Fi 2.4 GHz frequency band for communications with local terminals and radios; and one to the LTE frequency bands for backhaul to the network.
The new antennas are compatible with radios from manufacturers including GE, Sierra Wireless, DragonWave and FreeWave.  For detailed product information, visit www.terra-wave.com/mobilesolutions.