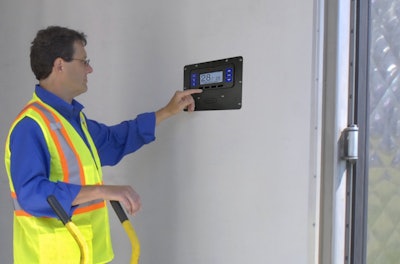 Carrier Transicold says its new APX remote panels add convenience and efficiency for refrigerated transport operations by placing trailer refrigeration controls in locations more easily accessible to operators. Carrier Transicold helps improve global transport and shipping of temperature-controlled cargoes with a complete line of equipment for refrigerated trucks, trailers and containers, and is a part of UTC Building & Industrial Systems, a unit of United Technologies Corp.
The remote panels are available in two configurations: "flush-mount," designed for mounting inside the trailer near the rear doors, and "surface-mount" for use on trailer exteriors. Flush-mount panels are especially useful at distribution centers, where personnel can configure the refrigeration unit control by walking into the trailer from a loading dock. Surface-mount panels provide similar practicality and are typically mounted near the front of the trailer, opposite the main unit control located behind the driver, providing safer curbside access for the operator when the rig is parked along a traffic corridor.
"Remote panels provide the ability to control the refrigeration system from secondary locations that are more convenient for drivers and distribution operations," said Mark Fragnito, product manager, Carrier Transicold. "The new APX remote panels provide the same control functionality as the main APX control display common to Carrier Transicold's current X4™ and Vector™ series trailer refrigeration units."
The remote panels include the same dashboard display – a large, backlit screen, flanked by labeled control buttons and menu keys – that makes operation easy and intuitive.
"The APX remote panels look and function the same as the main APX unit control, eliminating the learning curve for drivers and others already familiar with the system," Fragnito added.
"Operators can view all the refrigeration unit data and settings on the remote panel display," Fragnito said. "They may also select preset IntelliSet™ configurations or perform other functions, such as manually changing temperature set points and toggling between continuous and stop/start modes. They can also use the panels to turn the refrigeration unit on and off, defrost the unit or run a pre-trip diagnostic routine."
Easy to install, the new remote panels incorporate the same plug-and-play control architecture of Carrier Transicold's latest units by using CAN bus communications protocols. This makes installation much simpler and reliable since it requires only four wires – far fewer than remote panels made for older generation trailer refrigeration units. APX remote panels can be specified as part of new equipment purchases or can be added to units already in the field.