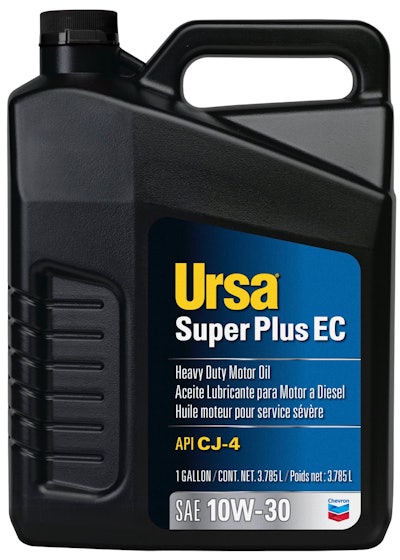 Chevron Products Company has announced the introduction of Ursa Super Plus EC SAE 10W-30 motor oil to the United States and Canada. This new heavy duty motor oil is designed to help improve fuel economy in heavy duty diesel trucks now using SAE 15W-40 engine oil at a competitive price point. Ursa Super Plus EC SAE 10W-30 is an API CJ-4 heavy duty diesel engine oil that provides key benefits for on- and off-highway applications.
"Fuel economy is a growing concern for fleets and owner operators," said Jim Gambill, North America Commercial Brands Manager at Chevron Products Company. "With budgets under constant pressure, many customers are forced to do more with less and must find solutions that fit their needs. Ursa Super Plus EC SAE 10W-30 helps bridge the affordability gap by providing fuel economy benefits in a competitive way."
Ursa Super Plus EC SAE 10W-30 provides key benefits to on- and off-highway diesel engines in fleets, construction, agriculture, mining and quarrying equipment. These benefits include:
–          Improved fuel economy – Tests show improvements in fuel economy relative to SAE 15W-40 diesel engine oils.
–          Protection for engine components – Helps protect engine components against wear and corrosion.  Meets stringent API CJ-4 service category requirements which provide engine protection and improved emission control system life relative to previous generation technology.
–          Meets specifications – Ursa Super Plus EC SAE 10W-30 provides benefits of a CJ-4 fuel economy product and is a complementary product to Chevron's popular Delo 400 XLE SynBlend SAE 10W-30.
Ursa Super Plus EC SAE 10W-30 is specifically formulated for 2010 compliant low emission diesel engines with Selective Catalytic Reduction (SCR), Diesel Particulate Filter (DPF) and Exhaust Gas Recirculation (EGR), and is recommended for use in on-highway diesel engines that require API CJ-4 Service category and allow the use of an SAE 10W-30 viscosity grade. Additionally, it is recommended for select engine types from Caterpillar, Cummins, Detroit, Mack and Volvo.
Ursa Super Plus EC SAE 10W-30 joins Chevron's popular and growing family of fuel economy heavy duty diesel engine oils as a price-sensitive option alongside the premium Delo motor oils, which include Delo 400 LE Synthetic 5W-30, Delo 400 LE Synthetic 5W-40, Delo 400 XLE SynBlend 10W-30, Delo 400 SD 15W-30 and Delo 400 NG 15W-40.  When combined with Chevron's fuel economy transmission fluids like Delo Syn-Trans XV SAE 75W-80 and gear oils like Delo Gear ESI 80W-90, Chevron motor oils can help customers improve fuel economy and lower carbon emissions without trading off protection. These top-selling high-performance heavy duty motor oils enable users to optimize their equipment, maintenance practices and operating environments.
Chevron recommends checking with your OEM before switching to fuel economy products. Additionally, when evaluating a switch to a lower-viscosity oil, Chevron recommends oil analysis to help ensure optimal performance.