From the very beginning, the Michelin name has meant innovation. As the world's leading tire manufacturer, Michelin has helped to advance the mobility of goods and people for 125 years. Customers have counted on Michelin tires for safety and performance on the road. So, and understandably, many know of Michelin for their truck, tractor, construction, farming, off-road or pickup truck tires as well as for the tires which carry their families to work, school and activities. Relying on Michelin for durability, performance and total cost of ownership is a given but what many may not know is that Michelin is also a brand that can be trusted to provide maximum comfort, superior traction and technology in everyday work and lifestyle products.
Leveraging the company's technical expertise in managing contact with the ground and in providing comfort and safety, Michelin offers a growing line of professional footwear, vehicle mats and liners, wiper blades, coolers, tools, seat covers, ice melt, compressors, gauges, passenger car snow chains, sports sneakers and tire inflators.
Footwear
Michelin has applied its know-how and expertise relating to rubber and traction to its range of footwear. Michelin footwear is practical and stylish with sole designs inspired by Michelin's high-performance tires. No matter what boot is necessary – durable work boots, steel toed work boots, steel toes rubber boots, slip-resistant work shoes, rugged outdoor shoes, hiking boots or more casual lifestyle shoes and sneakers – Michelin provides solutions for all performance needs. Highly advanced technology is incorporated into every style.
Michelin offers more than 25 different industrial footwear styles ideal for working professionals or simply for casual wear – many with sole designs inspired by Michelin's high-performance tire tread designs. The comprehensive range of Michelin-branded safety and protective footwear has been embraced by the construction, food service, waste management, mining and manufacturing industries. This footwear has also been coveted by rugged outdoorsmen and by those who like to walk in comfort.
High slip, oil and chemical and abrasion resistance are just some of the qualities that make Michelin boots ready for any industrial work place. For example, Michelin's Pilot Exalto Metatarsal Steel Toe Boot and Sledge Met Guard Work Boots have shock-absorbing midsole cushions, orthotic insoles and an ASTM F2413-05 Electrical Hazard rating. The ANSI/ASTM-rated class 75 metatarsal guard protects against unexpected foot impacts. The oil- and slip-resistant multi-density sole of MICHELIN's XPX761 Sledge Work Boots deliver comfort and durability for those needing a premium welding boot. Steel toe boots are available in men's sizes up to size 13. Tennis sneakers are available in men, women and children's sizes through Dick's Sporting Goods or at www.babolat.u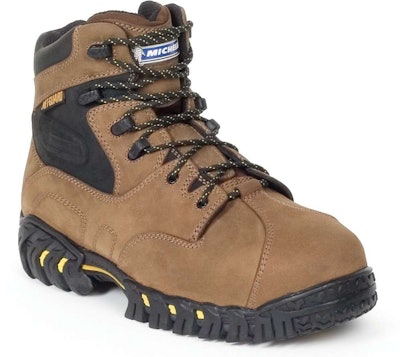 s.
Tools and products
Michelin is not focused on just tire manufacturing alone. It offers many other premium products such as custom floor liners, all-weather utility/cargo mats, seat covers, winter blades, scrapers, ice melt, tire inflators, pressure washers, and 12 volt coolers. For example, the Symphony line of passenger wiper blades are designed for efficiency (no dirt and snow buildup), durability (use of fortified rubber), and convenience (employment of advance connector system) and are available up to size 28. And, similar to the tires from the brand, these blades are all-weather in design and are perfect for heavy-duty drives. The custom floor liners are constructed by precision laser measurements providing the best possible vehicle fit. The raised containment walls and extended edge prevent spills from damaging vehicle interior while the deep, sculpted channels trap and contain water, sand, dirt and debris. The all-weather utility/cargo mats have a universal fit mat designed to fit more vehicles including cars, trucks, vans and SUV's. The premium rubber provides maximum protection from the outside elements and is naturally soil and stain resistant and mold to the contours of vehicle floor for a smooth, snug fit. For more information, visit: http://www.michelin-lifestyle.com/truck-accessories/equipment-and-accessories/accessories/
Maps and Guides
Over a century ago, the Michelin brothers published a guidebook that would inspire motorists to travel and make their trips rewarding. In the years since, the Michelin guides have been a trusted friend to travelers who are eager to pursue their passions around the globe. Michelin guides equip travelers with comprehensive information they need to get the most out of their travel. From countries to regions to cities, Michelin's legendary maps and guides help travelers taste, see and experience some of the world's most memorable destinations. There are over 60 maps, atlases, Red Guides, and Green Guides available in North America alone covering popular destinations such as New England, Florida, Toronto, Hawaii, Alaska, Cancun, Havana and Las Vegas. Green Guides include recommendations for lodging, attractions, dining and event.