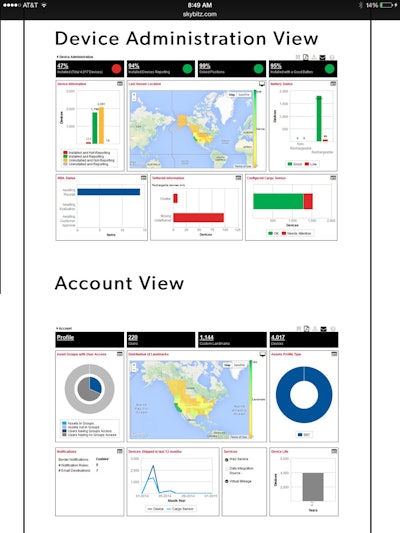 SkyBitz, a provider of remote asset tracking and information management systems, has a new visual dashboard feature called "InSight Now" that is available as part of its web application, SkyBitz InSight. Customers can use the new tool for making dynamic operational decisions that improve efficiency. The dashboard also provides an easier way to monitor their fleet, the company says.
InSight Now presents real-time and summarized views of information based on roles relevant to each customer's business operations. Its reports are more visual and provide easy-to-understand information meant for day-to-day operations and analysis, it says. In addition, the new reports were designed to help plan and respond quickly to changing conditions.
"The combination of SkyBitz as a Service and InSight Now has been great for us. Together they have made SkyBitz trailer tracking easy to implement and use," said Jeremy Payn, project and IT manager of J Rayl, a truckload carrier based in Akron, Ohio, with more than 200 power units. "InSight Now has provided us with the visibility needed to run our operations more efficiently. Right out of the gate it helped us cut down on leased trailers and utilize our existing resources better. With InSight Now we can easily navigate to and analyze data, which has helped improve our trailer pool management and demurrage tracking."
The three main dashboard views are: Account, Operations, and Device Administration. Users can monitor their fleet and drill down to specific assets that drive the over-arching metrics and make adjustments.
Specific features of InSight Now allow users to:
Analyze idle assets and drill down by landmark.
Check on cargo load status at landmarks.
Review number of assets moving empty for optimization opportunities.
Manage trailer pools minimums and maximums.
Monitor installation and status of devices across the fleet.
Review and manage user account access
Survey device life and status for improved maintenance.
"Prospective and existing customers are increasingly requesting convenient and easy to understand visual information. Fleets can be monitored via the dashboard and drill down for any unexpected findings," said Henry Popplewell, senior vice president and general manager of SkyBitz.