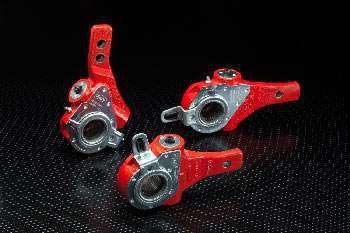 Webb Wheel Products, a Marmon Highway Technologies/Berkshire Hathaway company, is expanding its product portfolio to include a complete line of clearance sensing automatic brake adjusters. This new product line will be offered by a new business unit, Webb Brake Adjusters.
Webb Brake Adjusters will offer automatic slack adjusters in 5.5- to 7-inch arm lengths in 10, 28 and 37 spline models. Webb utilizes the proven clearance sensing design for its standard automatic slack adjusters and a patent protected design for its self-setting adjusters. These products are sold worldwide for OEM first fit and in the aftermarket. Specific brake adjuster models are available for line haul truck and tractor, severe duty, transit and motor coach applications.
The new Webb Brake Adjusters is an outgrowth of Marmon Highway Technologies and Webb Wheel Products listening to their customers by providing another wheel end product to complement Webb's hubs, drums and rotors, as well as spring brakes provided by TSE Brakes, a sister MHT company. These slack adjusters will reflect the highest quality standards and the commitment to customer satisfaction that the Webb name has come to represent in the heavy duty market.