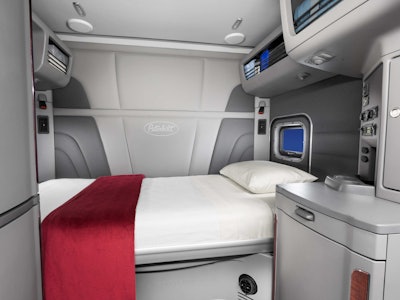 Peterbilt enhanced its SmartAir no-idle system with new auto-start technology that helps keep main and auxiliary batteries charged while running the air-conditioning system and using electric-powered devices, Peterbilt Motors Company recently announced.
The auto-start technology is available as a factory-installed option with Model 579s equipped with SmartAir and either a 72- or 80-inch sleeper. It is fully integrated with the vehicle's electrical system to monitor battery charge levels and start the truck if the charge falls below a given threshold.
"SmartAir is a popular feature which allows customers to reduce fuel costs, comply with no-idle regulations and reduce their carbon footprint," said Scott Newhouse, Peterbilt Chief Engineer. "It's lightweight, compact and provides outstanding climate control in even the harshest conditions. The new auto-start technology complements the SmartAir system by helping ensure customers have the necessary power when they need it."
Newhouse explained auto-start monitors the charges of main and auxiliary batteries while the truck ignition is off. If the charges fall below a certain level, the system automatically starts the truck and runs the engine until batteries are sufficiently charged. The system performs several safety checks before cranking the engine. Additionally, interlocks ensure the system does not unexpectedly start.
 SmartAir has a 7,500 BTU/hour cooling capacity and can operate for up to 10 hours on a single charge. The split-system design is located outside the cab for optimum performance and maximum under-bunk storage capacity.
 As a factory-installed option, SmartAir is fully integrated into the existing HVAC system and utilizes existing ducting for superior quality and fit and finish. The system is easy to operate and is controlled through an in-sleeper LCD display.